K'taka excise, police seize illicit liquor transported from Goa
03rd December 2019, 02:04 Hrs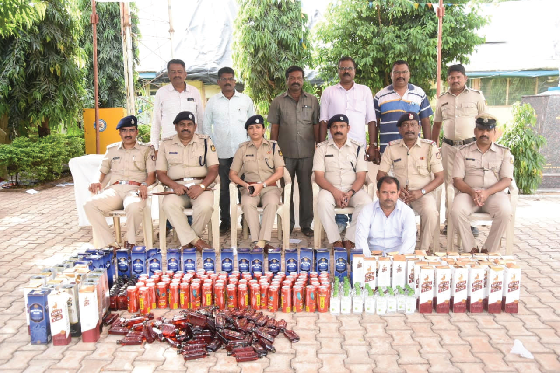 the goan I network
BELAGAVI
Incidents of illicit liquor trade between Belagavi and Goa are on the rise. In two separate incidents on Saturday and Sunday, Belagavi police and excise officials seized about 200 liters of illicitly transported Goa liquor to Belagavi and have arrested 3 persons.
In one incident, the Belagavi police seized 106 liters of Goa liquor at Bahaddarwadi in Belagavi taluka on Belagavi Goa road via Chorla.
Laxman Sateri from Bahaddarwadi village was arrested and along with liquor some cash prom the proceeds of the sale of the liquor was also recovered from him.
The raids were carried out under the guidance of ACP crime Mahanteshwar Jiddi and ACP (Rural) Shiva Reddy by CPI Sanjeev Kamble and team.
In another incident, the Karnataka excise officials seized 90 liters of illicitly transported Goa liquor. Acting on the specific information during the wee hours of Sunday, excise officials raided a Bolero bearing KA 35 B-9510 and recovered liquor bottles from the vehicle.
Under the guidance of Excise Jt Commissioner Shivangouda, Basavaraj Sandigwad Excise PSI R B Hosalli and team conducted the raids. Jilan Kasimsab (25) and Mohammed Sadiqsab ( 22) from Bellary were arrested.
The arrested have been reprimanded to judicial custody and sent to prison. Separate cases have been registered.
3 thieves nabbed by Konkan Rly Protection Force
MARGAO: The Railway Protection Force, Konkan Railway nabbed three thieves who were involved in a theft in LTT Mangaluru-Matsyagandha Express at Murudeshwar on 28 November. Valuables worth Rs 4.70, including cash, mobile and gold jewellery have been recovered. The theft was reported by a passenger who was travelling in the train. On receiving information from the auto-rickshaw drivers of Murudeshwar, the RPF team tactfully managed to nab all the three suspects travelling in a local bus with stolen articles.
After completing the legal formalities, the accused were brought to Karwar police station for initial interrogation.
Related news