Rectify minutes of meeting,demands opposition group
09th November 2019, 02:48 Hrs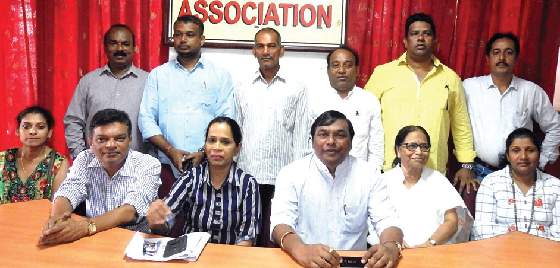 the goan I network
MARGAO
In a day of dramatic political developments, the Opposition group in the 25-member Margao Municipal Council on Friday morning served a 48-hour ultimatum to MMC Chairperson Babita Prabhudesai to rectify the minutes of the meeting that accorded approval for Dr Jack de Sequeira's statue or face a no-trust motion.
They demanded that the entire proposal on Dr Sequeira's statue as well as naming of roads after prominent personalities, including former Chief Minister Manohar Parrikar should be kept in abeyance before a panel clears the proposal.
Around 12 Opposition councillors aligned to the BJP and Opposition Leader Digambar Kamat briefed the media on Friday morning giving 48 workings hours for the MMC chief to call a meeting and rectify the minutes of the meeting that had discussed Dr Sequeira's statue and naming of roads. "We give the MMC chairperson just 48 working hours to rectify the minutes or she should tender her resignation from office," Doris demanded, making it clear the opposition group will move a no-confidence motion against the MMC chairperson if their demands are not met.
BJP councillor Rupesh Mahatme pointed out that the opposition group has already asked the MMC chairperson to keep in abeyance the entire proposal to install Dr Sequeira's statue as well as naming of roads. "We have no issue even if our demand will stall the naming of road after former Chief Minister Manohar Parrikar next month in Fatorda. We want the entire issue to be vetted by a panel consisting of the three MLAs, besides councillors and prominent citizens. Let the panel study the issue before it gets approval from the Council," Rupesh added.
Both Rupesh and Doris, attached to the BJP and Congress respectively, asserted that there's no party politics involved in the civic body, adding that like-minded have come together in the interest of the city.
Referring to Dr Jack de Sequeira statue controversy, Rupesh pointed out that Dr Sequeira is a big name in Goa, known as the Father of the Opinion Poll. "We are not opposed to Dr Sequeira's statue. What we are demanding is the Council should consider all aspects including the Supreme Court guidelines before taking the final decision," he said, adding 'it should not happen that the MMC starts work on the statue and the work is abandoned midway because of the violation of court order'.
In his address, former chairperson Arthur D'Silva claimed that the Council has the history of repeatedly and deliberately recording the minutes wrongly, demanding to know whether it was an attempt to empty the municipal treasury.
Related news