Citizens confront NH assistant engg at Fatorda office over road repairs
16th October 2019, 03:53 Hrs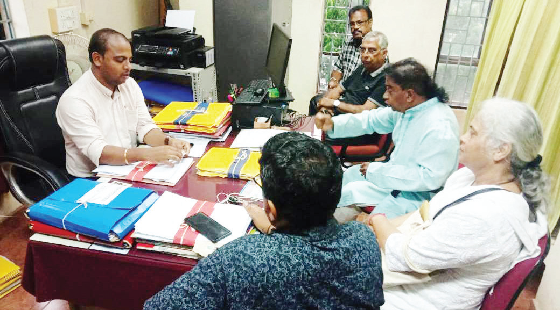 the goan I network
MARGAO
A delegation of citizens virtually laid a siege at the office of Assistant Engineer, National Highway at the PWD office, Fatorda on Tuesday and only left the office after extracting an assurance that the road repair work would be taken up immediately.
The delegation comprising of former MMC chairperson Savio Coutinho, Jose Marie Miranda, Radha Kavlekar, Felix Dias and Lawry Abranches came out of the chamber of the Assistant Engineer only after 6 pm when the officer assured to get the potholes removed dotting the national highway passing through the city, particularly around the MMC square.
After coming out of the meeting, Coutinho told the media that the delegation not only extracted an assurance that the damaged road will be repaired immediately, but made it point clear to the Assistant Engineer Rajesh Gawde that the citizens will not tolerate any attempt to get the road repaired out of the tax payers money. He pointed out that the contractor is duty bound to repair the road, irrespective whether he has given a sub-contract to another contractor, making it clear that under no circumstance will the public bear the cost of the road repairs.
The Assistant engineer told the media that repair work on the damaged road has been kept on hold because of the sudden rains in the last three days, assuring to get the work done when there's a dry spell.
Related news