Threading an Indian story
Nestling on the main street of Assagao is a rich treasure trove of exquisite hand-made jewellery, clothes, traditional weaves all under one roof. The Indian Story store is a place where collectors hang out to pick up not just clothes but a piece of India
Story: Ahva |

D'Souzaa

|
28th July 2012, 12:00 Hrs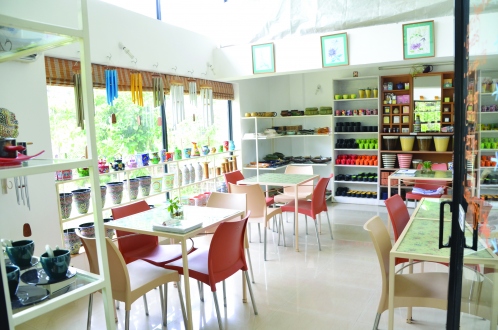 Be it the Sachin Tendulkar shirt that hangs on the mannequin or the sarees embroidered in gold thread, each stuff at the Indian Story has a tale to tell. "We believe that the work of the craftsman should be honoured" says Pooja Swaika.

Pooja and her sibling Ayesha, co-founders of Swaika label and Indian Story say, "We were not content with the Swaika brand. So we decided to bring Indian Story to people." The Indian Story is an effort to vertically integrate the entire process and journey of the product from inception through manufacturing and ultimately retail, the sisters reveal.

For Ayesha who shuttles between India and the US to build the brand, "The Indian Story provides a platform to young and upcoming designers that allows them to work with craftsmen and artisans across the country and create products at par with the best, globally."

But aren't Governments taking care of their craftsmen? "Government's role is restricted to setting up emporiums. But the stuff you find in the emporiums is incredible craft, but very jaded. We already have so much of it. The emporiums have been unable to contemporise the aesthetics," the sisters tell.

So what is it that the sisters do differently? Pooja says, "We at Indian Story contemporize Indian design and craft. We make products which you could sell anywhere. But what sets us apart is that a good share of our profits is invested back with our workers." At the Indian Story there are products to suit everyone's budget. Ask the sisters the highest price of a product, they refuse to quote the price. But they warn you that it runs into lakhs of rupees. Ask them what is their sales turnover Pooja says, "We are not bothered by the pressure to sell our products, this is not our main income. Even if we get one customer we are happy." This is one store that remains open 365 days a year, unlike the others that open only during season time.

For the sisters, setting shop in Goa is more genetic. Their mother Mamta was a veteran Geography teacher in Calcutta. It was on a family holiday in Goa that Pooja decided that this is where she wanted to be. The rest of the family moved from Delhi to settle down. Their story, the quintessential Indian story of being indian anywhere in india

With big names from Bollywood and the cricketing world patronizing their products, the Swaikas have made a lasting impression. So weather it's a shrug made from yarn dyed checks from Salem or a little planter painted by the people who do truck art, a mad Bollywood theme, or a Tangai saree woven with a little Banarasi silk you can find it all at the Indian Story. You just need to hunt a bit.

Related news
Netted in history
Many Siridao fishermen still continue to hand weave their nets just like their ancestors did. Read more
Germania batteries: Fully charged on the growth path
Goan battery company exports to Russian and Turkey Technology breakthroughs ensure lower prices Read more