Fire engulfs dry waste baling site of Benaulim panchayat
25th March 2020, 02:44 Hrs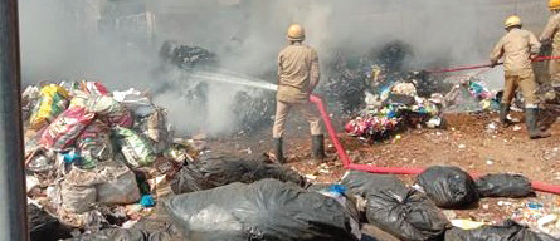 the goan I network
MARGAO
The dry waste baling site of the Benaulim panchayat adjoining the panchayat ghar was engulfed by a massive fire on Tuesday morning, leaving the panchayat building partially damaged.
The fire engulfed the bales of dry and plastic waste at the site and damaged the windowpanes of the Panchayat ghar. The cabin housing the village sarpanch and the panchayat secretary were also damaged.
It could not be exactly ascertained what caused the sudden fire to the dry waste baling site. Sarpanch Ezlina Fernandes, who rushed to the spot on being informed of the incident, said the fire has gutted the baling site, adding that the window panes of the panchayat ghar were also damaged in the incident.
Thick black smoke billowed from the baling site around noon as the fire soon spread around the area.
The sarpanch said the condition of the baling machine will be ascertained once the fire fighting operation is over.
A fireman attached to the Margao fire brigade informed that they received a call at around 3.17 pm informing them about the fire.
Related news