GSIDC proposes 2 overbridges at Rawanfond
Mumbai-based consultant appointed to design bridge and prepare estimates
03rd December 2019, 03:45 Hrs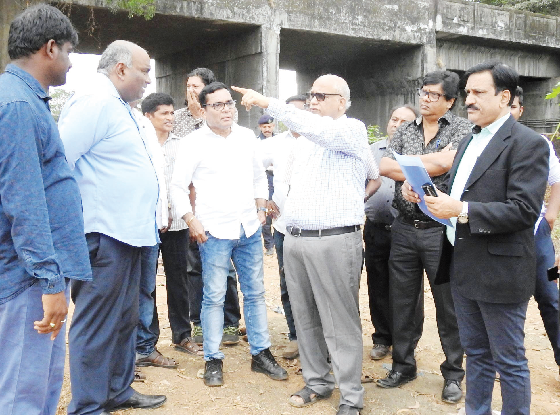 the goan I network
MARGAO
The Goa State Infrastructure Development Corporation (GSIDC) has not only proposed a four-lane parallel road overbridge at the Rawanfond railway under pass, but has proposed to put in place another two-lane bridge at the site after razing down the existing
bridge.
In fact, the GSIDC-appointed Mumbai-based consultant made his presence felt at the Rawanfond bridge site for a joint inspection arranged by Margao MLA Digambar Kamat with GSIDC officials and Konkan railway authorities on Monday.
While the consultant will prepare the design of the four-lane road over bridge, the PWD and the Konkan railway has been asked to provide details concerning
the project.
During inspection, the Margao MLA pointed out that the new four-lane road overbridge is being planned to meet the future traffic requirements plying via Rawanfond. He said there should not be any traffic issues at Rawanfond if the GSIDC has plans to razed down the existing Rawanfond bridge and build a new two-lane lane bridge.
"The proposed four-lane road over bridge and the new two-lane bridge at the existing bridge should take care of the traffic requirements of the area for the next 50 years," Kamat said.
GSIDC general manager, Jude Carvalho told The Goan that the consultant will prepare the drawings and design of the proposed four-lane bridge before a joint inspection of the site with PWD and KRC officials is carried out at the site.
"GSIDC has already
appointed the Mumbai-based consultant and he will
design the bridge and prepare the estimates,"
Carvalho added.
Meanwhile, the Margao MLA said the Aquem Power House junction will be developed after synchronizing the traffic movement along the existing Rawanfond bridge and the proposed road over bridge.
"We want to plan for the future right now. That's the reason we don't want to act in haste and the island will be taken up for beautification only after the proposed road overbridge plan is finalized," he said
He said the waste dumped on the ring road at Rawanfond will soon be a thing of the past after the next 15 days as plans are afoot to close the ring road during the day to
facilitate the road beautification work.
Digambar tells KR to halt work near
Aquem cemetery pending inspection
MARGAO: Margao MLA Digambar Kamat on Monday told the Konkan railway to keep the plan to lay a new railway track adjoining the Aquem cemetery on hold pending joint inspection of the site.
Kamat, who descended at Rawanfond with GSIDC and Konkan railway officials on Monday for a site inspection of the proposed four-lane road over bridge, found the Konkan railway laying a new railway track close to the cemetery.
Kamat said the railway authorities cannot fell the coconut trees near the track and told the officials to keep the work on hold pending a joint inspection.
He virtually told the railway officials not to take advantage of the silence of the people and hoped that better sense would prevail.
Related news