High level meet to tackle pollution at Cuncolim Ind Estate next week
 Nearby residents continue to suffer from foul fish odour, dust pollution  MLA vows not to permit any more polluting units to set up shop
11th October 2019, 06:30 Hrs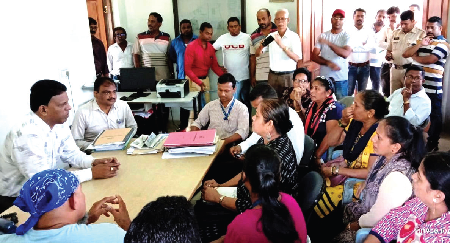 the goan I network
MARGAO
With pollution raising its ugly head in the Cuncolim Industrial Estate, Cuncolim MLA Clafacio Dias on Thursday promised the residents to hold an inspection of the industrial estate with the Chief Minister Pramod Sawant, Industries Minister and officials of the Goa State Pollution Control Board (GSPCB) to protect the people from pollution.
Clafacio along with GSPCB and IDC officials descended at the Cuncolim Industrial Estate on Thursday morning following complaints from the local populace about pollution caused by foul fish odour and dust from the industrial units.
After discussions with the officials and the local people, the MLA later told the media that people staying near the industrial estate has been suffering from pollution with no solution in sight till date.
"Next week, I intend to call a meeting with the Chief Minster, Industries Minister and GSPCB officials to inspect the Cuncolim Industrial estate and put an end to pollution," he said.
While exuding confidence that the Chief Minister will take definite steps to bring pollution under control, the MLA warned that he would take to the roads along with the people by blocking the National Highway if the local populace does not get justice.
"For years now, the people have been knocking the doors of successive governments for justice. In fact, I myself might have carried around eight inspections since I became the MLA of Cuncolim in 2017," Clafacio said, while conceding that the authorities have failed to cap pollution at the industrial estate. The Cuncolim MLA also vowed not to permit any more polluting units at the Cuncolim Industrial estate. "There was a move to get in another fish meal plant at the Cuncolim Industrial estate, which I had opposed tooth and nail on the grounds that the lone fish meal plant was creating nuisance and pollution at the estate," he said. The MLA reassured the people that he would not allow any more pollution units in the Cuncolim Industrial Estate and at the same time get the agencies initiate steps to cap the pollution in the existing units. 'Money being
extorted under pretext of lodging
complaints'
MARGAO: Saying that pollution remains an issue in Cuncolim because the people are not united, local MLA Clafacio Dias has claimed that many people have only extorted money from the industrial estate under the pretext of lodging complaints.
"Today, Cuncolkars are suffering from pollution because they are not united. If they were united, these factories would not have come up here in the first instance," he said. When the media sought to know whether people have complained against pollution just to extort money from the units, the Cuncolim MLAnanswered in the positive, saying many people, who had lodged complaints, only disappeared later for reasons best known to them.
Related news