Mormugao council deliberates on biogas plant, single-use plastic, pet dogs' registration at meet
11th October 2019, 06:30 Hrs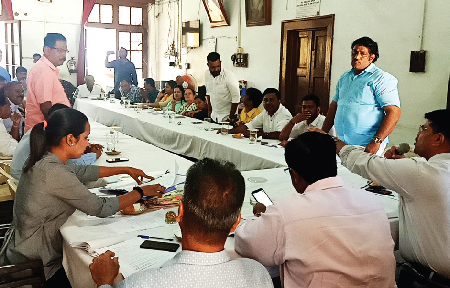 the goan I network
VASCO
Several issues, including those pertaining to the biogas plant, single-use plastic and registration of pet dogs, in the port town were discussed at the Mormugao Municipal Council (MMC) meeting on Thursday morning.
The meeting was chaired by MMC Chairperson Nandadeep Raut and attended by all
councillors.
Raut's announcement that two new advocates had been added to the MMC panel received objections from former MMC chairperson Kritesh Gaonkar, who claimed that appointment of advocates had to be routed through a council meeting and with prior information of all councillors. He also demanded to know how many MMC cases were pending till date.
The issue of maintenance of the Vaddem Lake also came up for discussion but it was deferred after Raut said he required more time to study the matter and also discuss it with the two ministers of Mormugao taluka, Mauvin Godinho and Milind Naik.
The council meeting witnessed some noisy scenes on the development of the open space opposite Tanya Hotel. Opposition Councillors sought to know what development would be taken up at the site that was earlier proposed for a swimming pool and later proposed to be a playground and jogger's park, besides shifting of two schools from Baina to the site.
The MMC decided to ban single-use plastic in the municipality, but Councillor Nilesh Navelkar said an awareness drive was needed before MMC started imposing fines on vendors.
He also requested MMC to keep a strict watch on MMC inspectors so that fines are imposed on all vendors without any bias and in a free and fair manner.
MMC also decided that pet dogs in the council jurisdiction would have to be registered and renewed annually, an annual fee to be charged. The MMC would charge Rs 450 for pure breed dogs, Rs 350 for high breed dogs and Rs 200 for local dogs as an annual fee.
The council also discussed the issue of enhancing the capacity of the biogas plant at Sada from 5 tonnes to 15 tonnes per day and the deployment of a security guard at the plant.
However, councillors opined that since part of the bio-gas plant was not functional, it was not advisable to have three security guards at the site and spend Rs 45,000 rupees each month. The MMC decided to have CCTV cameras to monitor activity at the site.
The MMC also decided to request the government to temporarily allot the Sada sub jail land belonging to the Art and Culture department to the council.
Councillors raised the about the non-functional CCTV cameras installed under MPLAD scheme.
Raut said the annual maintenance charges of around Rs 5 lakh for the CCTV cameras would be obtained under CSR from corporate bodies or a fresh proposal would be placed before South Goa Congress MP Fransisco Sardinha to take up annual maintenance of CCTV cameras under MPLAD funds.

Councillors object to pay-parking
for locals
VASCO: The Mormugao Municipal Council (MMC) discussed the implementation of pay parking in certain lanes of the city, especially the lane outside the MMC building, during its meeting on Thursday morning.
However, some councillors opposed the move on grounds that local citizens should not be burdened by pay parking.
Councillor Nilesh Navelkar said the MMC had failed to remove fruit vendors from a big parking zone near Salgaoncar office despite several letters by Traffic cell, forcing citizens to park haphazardly and pay fines.
Councillor Krishna Salkar blamed the rent-a-car/bike operators who were found parking vehicles all day on many lanes in Vasco and it would not be fair to Vasco citizens to pay for parking.
Raut later informed that tourist taxi operators had also approached the MMC requesting for a dedicated parking space for taxis and said the MMC would implement the pay parking after a joint meet with the Traffic Cell, RTO and PWD authorities and would notify certain areas as pay parking zones.
Related news