Mapusa city fathers call for proactive action on unsafe buildings, say recent collapse is a wake-up call
11th September 2019, 02:50 Hrs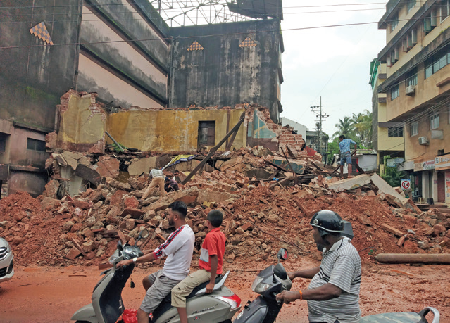 MAPUSA: Calling for proactive action against unsafe structures in Mapusa, the city-fathers on Tuesday said the civic body needs to show some urgency in taking quick and remedial action against dangerous buildings before it turns out to be a case of too little, too late.
"In the recent case of the building collapse in the city, we appeared to act only after the structure came down. We should not wait until something happens. We should act decisively," said Sandeep Falari, senior councilor and former chairperson.
The former chairperson was speaking during a discussion in the Mapusa Municipal Council (MMC) meeting on Tuesday.
Pointing to Ganga Apartments at Feira Alta opposite the Valankani Chapel, Falari said the condition of the building was very precarious and if it falls, it would cause untold misery to the two houses on its side.
"We should conduct a fresh structural audit of old and unsafe structures in the city and prepare a new list of dangerous buildings," Falari said.
MMC Chief Officer Clen Madeira defended his decision and informed the council that he had acted promptly and followed all the procedures concerning the recent building collapse.
"We had written to the district magistrate to evict the occupants of the building so that we could demolish the structure. We had also suggested closure of the road as the building could come down any moment," Madeira said.
He said the civic body cannot evict occupants and the only authority to do so was the district magistrate. The council unanimously passed a resolution to construct a new administrative block behind the new municipal building using funds from the 14th Finance Commission.
MMC to seal old municipal bldg
MAPUSA: The Mapusa Municipal Council (MMC) on Tuesday resolved to seal the old municipal building and hand it over to the arts and culture department.
The council had earlier decided to handover the building to the art and culture department to convert it into a district library.
MMC Chairperson Ryan Braganza informed the council that the Red Cross organization which was using the ground floor of the building were dilly dallying from moving out of the place.
He said the rear side of the building was in bad shape and was in need of urgent repairs.
"We have appealed to the Red Cross to move out of the premises, but they are refusing to go. The only way out is to seal the building," Braganza said.
Related news