Kamat and Khalap visit Sal, demand urgent assistance to victims
14th August 2019, 03:47 Hrs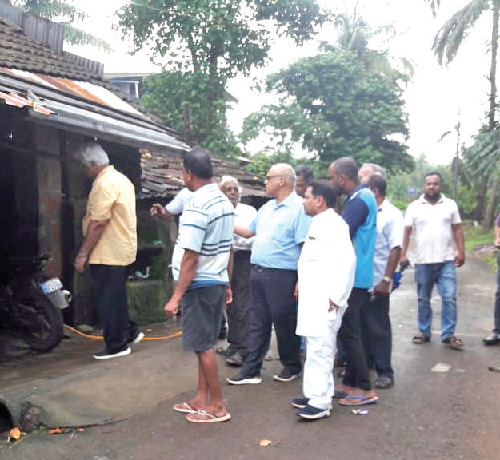 the goan I network
BICHOLIM
Opposition Leader Digambar Kamat and former union minister Ramakant Khalap visited the flood-affected Sal village on Tuesday, to take stock of the extensive damage to property due to flooding.
Kamat and Khalap along with Sal sarpanch Meghashyam Raut and a delegation interacted with villagers and advised them to take some precautionary measures.
Kamat said it was the government's duty to provide immediate interim relief to the affected families and questioned the delay in providing this relief. "The government must act fast to provide urgent financial aid to the affected people before Ganesh, as their losses are huge and many houses are also in a bad condition," said
Kamat.
Khalap said Goa and Maharashtra should work together to find a solution and claimed that one of the three dams at Tillari had developed cracks. "If this is true, the Goa government must act fast or else, a similar flooding would take place in villages along the Chapora river," said
Khalap.
Sal sarpanch Meghshyam Raut said the government should work on top priority as any delay would be an added concern for the flood-affected people.
Related news