SUMUL rejects large quantities of milk
16th July 2019, 02:01 Hrs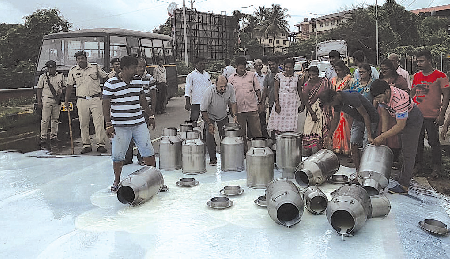 the goan I network
PANAJI
SUMUL, the Gujarat-based Surat Milk Union Ltd, which operates a plant in Goa and accepts milk from local dairy farmers on Monday allegedly rejected nearly 4,000 litres of raw milk supplied by farmers of Sal and Bicholim after it failed a new quality test.
Sources said that Surat District Co-Operative Milk Producers Union Ltd recently introduced a new test which the milk supplied by the local farmers of Bicholim and Sal did not pass. The farmers on the other hand claimed that officials of SUMUL did not inform them of the test and also did not explain to them why their milk failed it and was rejected.
Officials of SUMUL were not available for comments.

Local farmers boil, spill 4,000 lts on road
the goan I network
PANAJI
Dairy farmers from Bicholim and Sal areas on Monday marched to the Goa assembly and poured thousands of liters of Milk on road in protest. The farmers were protesting as the Surat District Co-Operative Milk Producers Union ltd, popularly known as SUMUL Dairy, rejected 4000 litres of milk at its milk processing plant in Goa.
The police stopped the agitated farmers who were marching towards Goa Assembly at the highway near Porvorim police station. The farmers held a protest at that point and poured thousands of litres of milk which they had carried along with them.
"We wanted to present this rejected milk by SAMUL to all MLAs but police officials blocked us from entering the assembly. Unfortunately we were forced to pour the milk on road to mark the protest. Neither our MLA nor animal husbandry minister is here to listen to our woes," said Meghasham Raut, a dairy farm owner from Sal. He said that farmers have been harassed by the SUMUL officers in the name of testing the milk quality.
"One scientist (microbiologist ) from SUMUL conducted some exceptional test on our milk and thereafter rejected it finding some faults," said a dairy farmer.
The farmers alleged that the milk processing company from Gujarat which has set a plant in Goa last year is harassing farmers to settle their pending demands with Government.
"SUMUL officers have told us that they are unable to take milk from the farmers as government has not kept its promise of giving subsidy during the tenure of Late Chief Minister Manohar Parrikar", said Meghasham.
Frustrated farmer have warned that they will create a law and order situation in the state, if their problems were not resolved.
Related news