Stray dog menace: Margao council has no solution
12th June 2019, 02:05 Hrs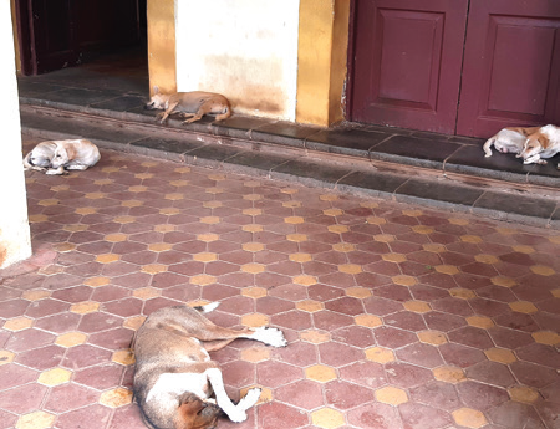 the goan I network
MARGAO
It may no longer be news for the Margao city fathers when Madgavkars say they have to grapple with the stray dog menace in their backyards, with complaints pouring in that strays are on the prowl across the city.
The entrance doors of the municipal building have now become a favourite resting place for the
strays, who have the civic body their second home. Don't be surprised if you find the strays resting on the steps of the entrance door and there is no one around to drive them away, dishing out an impression that the civic body has virtually resigned to its fate that it cannot tackle the menace.
When The Goan contacted Margao Municipal Council Chairperson Babita Prabhudesai, she said the incident only brings to the fore the apathy of the officials to do a simple thing of shooing away the strays. "It sounds surprising that there was were municipal official or staff to drive away the stay dogs seating at the entrance of the building. This only goes to show the indifference of the staff and officials to the problem," she added.
The MMC has outsourced the Animal Birth Control (ABC) programme to a city-based NGO by funding its activities. While the NGO carries out the sterilization programme at Sonsodo, with payments from the civic body, city fathers have all along been critical of the activities of the group, saying there's not even a dedicated telephone available for the citizens to contact the NGO to attend to the problem of strays.
While the avowed objective behind the ABC programme is to control the population of strays by way of sterilisation, dog bites cases have been on the rise in recent months, suggesting that the process has not kept pace with the ground realities.
In fact, complaints have been pouring in from all quarters about the menace of stray dogs, particularly in and around the housing societies. Two-wheeler owners have been the worst affected, with torn bike seat covers literally being the order of the day across the city.
Related news