Margao firemen helpless in face of nature's fury
With no sign of promised labourers, left to cut & clear fallen trees
12th June 2019, 03:01 Hrs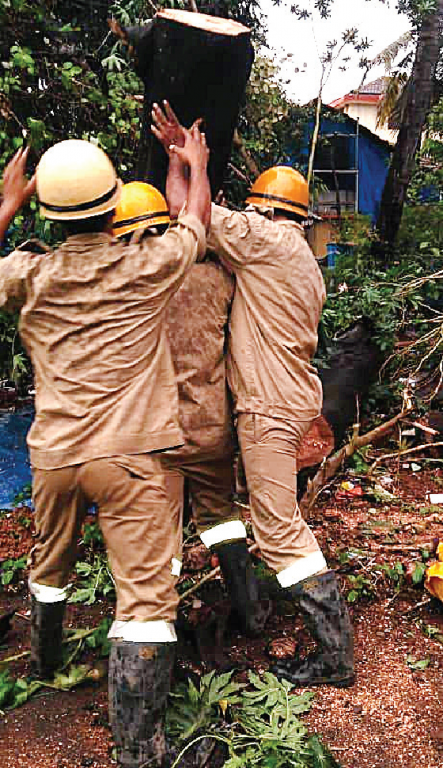 the goan I network
MARGAO
The strong cyclonic winds finally ushered in the rains and brought down a couple of trees in Salcete, but the Margao fire brigade is yet to receive the promised labourers to clear away trees fallen on roads and houses.
After participating in the gruelling eight-day fire-fighting operation to douse the fire and smoke at Sonsodo, firemen attached to the Margao fire brigade had to physically lift trees fallen on houses and roads in the absence of labourers on Tuesday.
Take note, the firemen had to virtually work in the rains for want of rainwear. They are entitled for a raincoat once every three years.
While the Margao fire brigade has around eight tree cutters at its disposal, with breakdowns due to wear and tear a routine phenomenon, the firemen are believed to have procured a couple of koitas for cutting of trees.
Sources told The Goan that Salcete's two civic bodies, the Margao Municipal Council and Cuncolim Municipal Council are mandated to provide labourers to the Margao fire brigade every year to attend to emergencies during the monsoon.
Information revealed that the two civic bodies had been providing around 16 labourers to the civic body every year during the rainy season.
Sadly, despite the meeting convened by the district administration to take stock of the monsoon preparedness, the labourers are yet to come in from the two civic bodies till date.
The strong winds that hit Salcete taluka in the last two days have only aggravated the problem for the firemen. In the absence of the labourers, who are attached to each of the three fire tenders, the firemen had to undertake the arduous task of lifting away the trees fallen on the roads and houses in the taluka.
A senior fire official wondered when will the two civic bodies provide the labourers to the Margao fire brigade as the rains have set in accompanied by strong winds. "We are helpless. Unless the promised labourers are made available, the fire brigade will be handicapped to tow away the fallen trees," remarked the fire official.
Incidentally, the firemen were seen working in the rains to clear the roads of the fallen trees on Tuesday
without any rain wear, with officials saying that the firemen are entitled for a raincoat from the department once in three years.
Related news