Dangling cables pose risk, give shabby look to city
Mapusa civic body, power dept has no plans to remove unauthorised cables
17th May 2019, 03:58 Hrs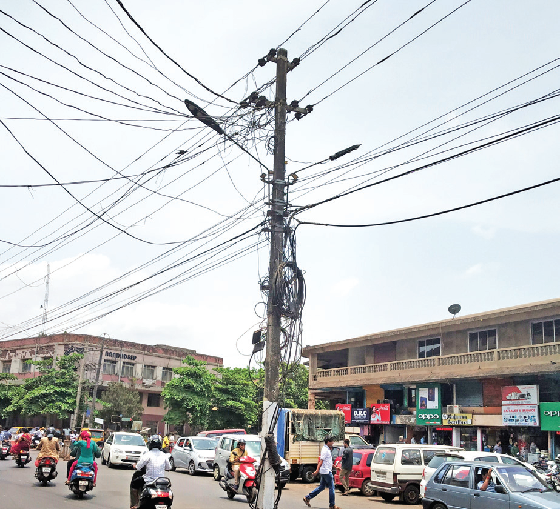 the goan I network
MAPUSA
Dangling cables and wires strung up from electricity poles create public nuisance and pose threat to life and property, besides giving a shabby look to the city.
Providers of cable TV, internet and telephone services have chosen a dangerous way to give connectivity by recklessly using government property.
Many times, the dangling cables can turn dangerous if they come in contact with live electric wires.
"It could be dangerous when television cables and the electricity line runs parallel on the same pole and unfortunately comes in contact with each other. Most operators fail to comply with safety standards," an official from the power department said.
He further said that chaotic network of cables on the electricity poles creates nuisance to the department's staff while dealing with breakdowns.
Senior officials in the electricity department informed that except for Reliance Jio, no other agency has permission to hoist overhead cables/wires.
"Only Reliance Jio has taken permission to run overhead wires and regularly makes payments to the department," said Subhash Parsekar, Assistant Engineer, Mapusa.
He also informed that the department has powers to remove the overhead wires and very soon, they would hold a discussion with the executive engineer on the issue.
At times, the weighty wires hang dangerously low and can even pose danger to motorists on the roads.
Concerned citizens were of the opinion that authorities should initiate action against such operators who use government property in violation of rules. "The electricity department should remove and confiscate such television or internet cables hanging from the High Tension poles. The local civic body should also initiate action against such cable operators," said Shekar Naik, a resident of Mapusa.
He said many times such cables are cut and left on the roadside which could pose danger to pedestrians and motorists, particularly at night.
Recently, the Margao Municipal Council had cracked the whip against cable TV and internet service providers for stringing their cables on electricity poles without seeking due permission.
When the errant service providers failed to remove the overhead wires despite issuing show cause notices to them, the chief officer ensured that the civic officials removed the wires around the old market in Margao. However, the Mapusa civic body has no such plans to remove these chaotic cables strung along every electricity pole in Mapusa at least not so soon.
"So far, we have not given any thought to the removal of the television and data cables in the city," was Mapusa chairperson Ryan Braganza's stoic response when asked.
Related news