Margao's storm water drains AWAIT clean-up
inspection reveals drains in pathetic state, MMC chief officer says onus of cleaning these lies on water resources department
16th May 2019, 03:41 Hrs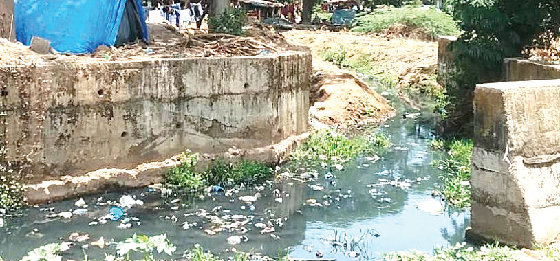 the goan I network
MARGAO
The sad state of the storm water nullahs in and around Margao has come to the fore yet again. Inspection of these nullahs in the wake of an action plan to rejuvenate the river Sal as per the National Green Tribunal's directions expose the neglect of these nullahs by the agencies, including Margao Municipal Council, SGPDA, Water Resources Department, and Sewerage Corporation.
Not only were the storm water nullahs in and around the Old Market area heavily silted with thick carpet of vegetation, but these water channels, which drain off the rain water during monsoon, all carried sewage and waste water into the adjoining river Sal, polluting the river body, once considered the lifeline of Salcete.
The worse scenario came to the fore when a makeshift sewage pipe, believed to be belonging to the sewage department, was silently discharging tons of waste water in a field. Inquiries have revealed that waste water from the pipe finds its way into the adjoining storm water nullah, which later empties into the river Sal at Mungul.
How the Margao civic body will go about plugging the discharge of waste and sewage water into the storm water drains remains unclear, more so when work on the North Main pipeline is presently underway, even though Chief Officer Sidhivinayak Naik has mulled notices to the sewerage department, WRD and the PDA on the issue.
Naik, who led the inspection team comprising municipal engineer Manoj Arsekar, engineers Uday Desai and Rajesh Desai, market inspector Hasina and health officer Dr Annie Oliveira, told the media that notices will go to various establishments and residential apartments to stop discharge in the drains or face disconnection of essential services such as water supply.
Passing the buck to the Water Resources Department, the MMC Chief Officer said most of the storm water nullahs are being maintained by the WRD, admitting that these have not been desilted till date. Interestingly, no official from the WRD or the Sewerage Corporation accompanied the inspection team to assess the ground reality before formulating an action plan for the rejuvenation of the river Sal.
The MMC Chief Officer could not set a time frame within which the storm water nullahs will be cleaned up and waste discharge plugged. "I do not know how long will it take to clear this mess. Again, agencies such as PDA, retail market, WRD etc will have to take a call," he said, adding that the storm water drains are under the control of the WRD.
To a question, the MMC Chief Officer said that the sewerage department will have to come clear on when exactly it will connect the commercial and residential buildings to the underground network. "Till the North Main sewerage network is complete, the sewerage department should at least control the discharge of effluents into the nullahs," he added.
Related news