2 vegetable stalls gutted in fire at Baina
15th May 2019, 03:53 Hrs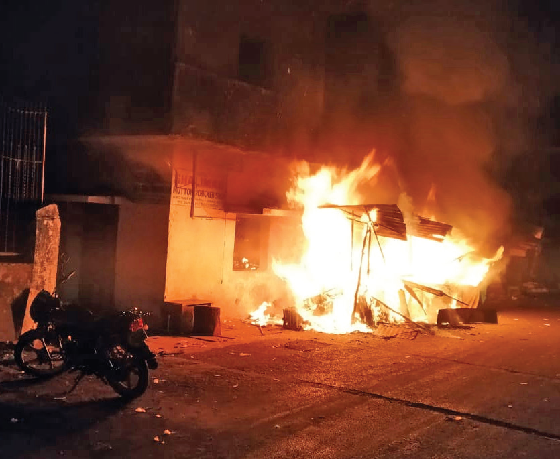 the goan I network
VASCO
Two adjacent vegetable makeshift stalls outside the municipal market at Baina-Vasco were gutted in a fire in the wee hours of Tuesday.
According to sources, the fire occurred at around 1.45 am and onlookers noticed huge flames and alerted the stall owners and the fire station. A fire tender rushed to the spot and doused the fire, but both stalls were destroyed in the fire.
The reason of the fire is unclear and investigations are in progress to ascertain the cause of fire.
According to one stall owner, N Manda, the stall could have caught fire at about 12.45 am, but was later noticed by onlookers. He has suspected foul play in the fire mishap.
"We were alerted by people about the fire. Since the stall was on fire from the outside, we feel that someone could have set fire to these stalls," Manda said.
"We have been at the site for the last 15 years. We estimate the losses to both stalls to be about Rs 2 lakhs. We had placed all vegetables inside the stalls because cattle eat the vegetables if they are left outside," he added.
When contacted, Vasco Fire Officer Dilip Bicholkar said the fire department initially received a call stating that a house was on fire, but later found out that two shops in the market complex had caught fire.
"We cut the lock, entered the complex and doused the fire. We also rescued a kitten trapped in the market. The loss is estimated at Rs 50, 000 and we have saved property worth Rs 5 lakhs," said
Bicholkar.
Related news