MMC leaves behind unsegregated garbage from five city hotels
Garbage not collected on Tuesday as punitive action
15th May 2019, 02:52 Hrs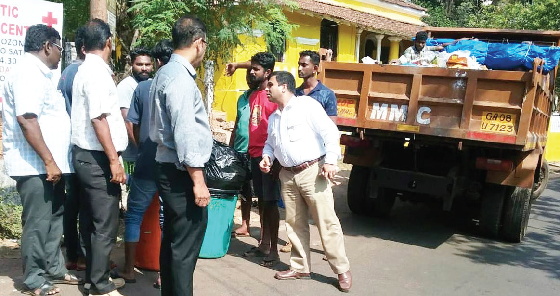 the goan I network
MARGAO
In an unprecedented action, the Margao Municipal Council on Tuesday refused to lift away waste generated from around five hotels after the officials and workers found to their surprise that the food establishments defaulted in handing over segregated waste.
The civic body led by Chief Officer Siddhivinayak Naik, municipal engineer Manoj Arsekar, junior engineer Agostinho Misquita and others on Tuesday noon conducted surprise inspection at around 15 city hotels to oversee the segregation of waste while collecting the garbage after it was brought to their notice by MMC workers that most hotels
and restaurants were handing over mixed waste to the MMC vehicle.
The Chief Officer told the media that garbage from several hotels was not collected as punitive action, and hotels were warned of severe action including sealing of premises if they continue to give unsegregated waste.
It may be known that MMC would collect dry waste only on Tuesdays and Fridays while wet waste was collected everyday.
While the civic body has refused to accept the unsegregated waste from the five hotels, questions were raised as to how these hotel owners will dispose off the waste and whether it would find its way to the waste stations or directly to the Sonsodo dump yard.
"This exercise has been started with a view to make hotels establishments, especially the big hotels, to comply with the solid waste management rules. In one hotel, we found broken crockery mixed with wet waste. We told the owners that we cannot accept this waste," an official told
The Goan.
Meanwhile, the Shadow Council for Margao has expressed happiness that the Margao Municipal Council is now insisting on hotels handing over segregated waste to municipal
workers.
The SCM pointed out that the MMC on one hand are requesting that residents hand over only segregated waste, while no efforts were made to get the hotels to properly segregate their waste despite the fact that hotel waste is collected separately by the council.
Former chairperson of MMC Savio Coutinho informed that the Shadow Council for Margao had brought this fact to the notice of the Dy CM Vijay Sardesai during his visit at Sonsodo last week.
"The SCM had pointed out that over 5-8 tonnes of total waste comes from hotels and if this waste is collected in segregated form it will immensely contribute to the waste management at Sonsodo," Coutinho said, while appreciating the efforts of the Chief Officer take up the issue.
Related news