Clear mud from Folli lake before monsoons: Collector to IR
15th May 2019, 03:45 Hrs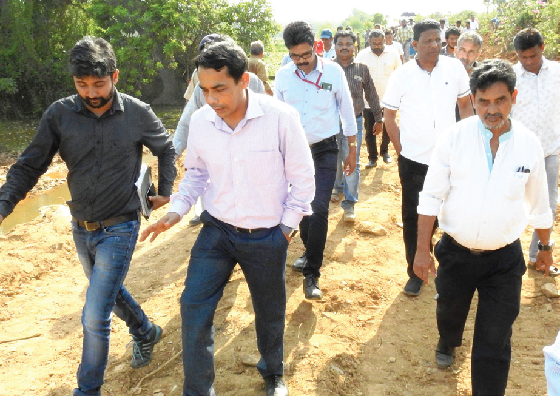 THE GOAN NETWORK
MARGAO: Terming the apprehensions raised by Guirdolim villagers as genuine, South Goa district Collector Ajit Roy on Tuesday directed the Indian railways to clear the mud from Folli lake before the onset of monsoons and to build a wall along the lake after the monsoons so that the debris does not end up in the lake in the future.
The district collector along with deputy collector, Uday Prabhudesai and Mamlatdar Prataprao Gaonkar inspected the lake along with officials of the Indian railways at the request of local MLA Clafacio Dias after locals feared large-scale flooding of the low lying areas of the village following the dumping of mud in the lake for the double tracking project.
"The apprehensions raised by the villagers are genuine since a lot of mud has been dumped in the lake. If the railways don't take sufficient care, the mud will flow in the low lying areas and disturb the environment," Roy told the media after the inspection.
While directing the railways to clear the debris from the lake before the onset of monsoons, Roy also told railway officials to share the double tracking project details with the village and explain to them the precautionary steps taken by the agencies to prevent any harm to the environment and the low lying areas.
"It's very clear that the mud from the lake should be removed before the monsoons. As far as the retaining wall is concerned, since it will take time, the railways will build the wall after the monsoons," Roy added.
When the media pointed out that mud dumped in the lake may find its way into the water body, the Collector said the railways have to find out an engineering solution to the isuse.
Cuncolim MLA Clafacio Dias pointed out that he had arranged the inspection since apprehensions were raised by the villagers that the dumping of mud will choke the handi of the lake and result in inundation of the low lying villages and the houses.
"I took up the issue with the Chief Minister Pramod Sawant and the Collector after locals feared that the mud will cause damage to the environment and result in flooding," he said.

Related news