Churchill red flags Goa Miles taxi service
raises questions on viability of service when existing operators in colva are struggling to get business
12th May 2019, 02:38 Hrs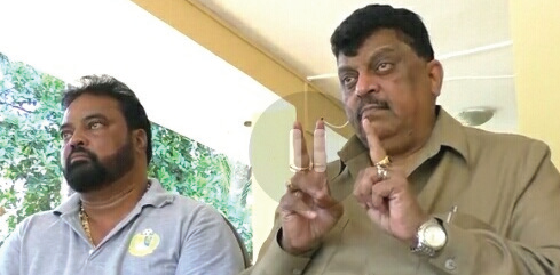 the goan I network
MARGAO
As Goa Miles taxis make repeated attempts to penetrate the tourist taxi business along Salcete coastal belt, Benaulim MLA Churchill Alemao on Saturday demanded that the government implement the 15-year domicile before anyone is issued the license to operate a taxi in Goa.
Addressing the media on Saturday, Churchill said unless the government applies the domicile rule in matters of employment and small business, local Goan youth dependent on small businesses such as tourist taxis have no future in their homeland.
Making a strong case for implementing the domicile rule in the tourist taxi business, the Benaulim MLA demanded that the government should not issue any license for running taxis, including tourist taxis, unless the application is a resident of Goa for 15 years as per the domicile rule.
Saying that taxis under the Goa Miles have no right to a taxi stand, Churchill said taxi operators under the Goa Miles are forcing their way to the offices of the Goa Tourism Development Corporation threatening to displace the livelihood of local youth eking out a livelihood on the taxi business.
"If the government continues to get outside taxis and drivers, how will the local youth earn their livelihood. The very purpose of creating a separate state with Konkani as its language will be defeated if the benefits of employment and business do not go to the local youth," he asserted.
Citing the case of Colva tourist taxi operators, Churchill said around 140 tourist taxis are operated by the local youth over the last few years, catering to the requirement of the tourists and other visitors. He failed to understand why the government is entertaining taxis under Goa Miles service at Colva when the existing fleet of tourist taxis does not do good business.
Refusing to accept the argument that tourist taxis are overcharging the tourists, Churchill insisted that the tourist taxi operators charge the fare notified by the government and the starred resorts. "Anyone can go and check that the tourist taxi operators charge the fare approved by the resorts," he said, adding that certain vested interests are creating a negative picture of the tourist taxi operators in order to make inroads into the traditional Goan business.
Saying that he had led a delegation of tourist taxi operators to CM Pramod Sawant earlier this week, but could not meet him because of his preoccupation, Churchill disclosed plans to call on him again next week with a plea to protect the interests of the local tourist taxi operators.
Related news