Velingkar: Political blood can change overnight
20th April 2019, 03:58 Hrs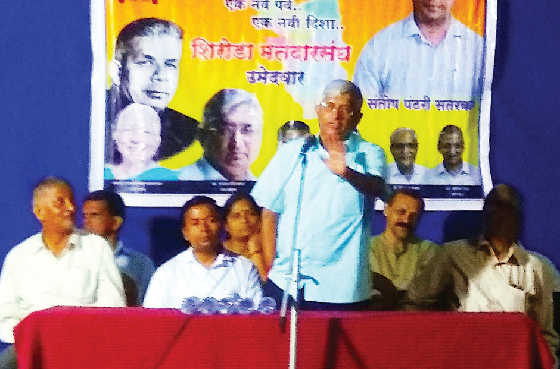 the goan I network
PONDA
Goa Suraksha Manch Chief Subhash Velingkar on Friday said politics of Goa had turned so dirty that 'political blood' of some politicians changed overnight and they leap into other parties.
"We are walking the way of clean politics. Let the mid-term polls come. We will be in power and we will show that power can be brought without hiring anyone," said
Velingkar.
He was speaking at a meeting in Shiroda, while campaigning for GSM candidate for Shiroda Santosh Satarkar, GSM Vice President Govind Dev, Utkarsh Prabhu Borkar and others.
He said politicians have been changing parties for their own benefits and were taking the voters granted.
"If the mid-term poll comes, we will come in power. We are towards clean politics. Our politics will be appeasement of none. But justice will be given to all. We will work to clean the politics of Goa," he said.
"The public is not present in the hearts of politicians. It is filled with selfishness and hence, corruption is going on."
Elaborating on corruption, Velingkar said there are many projects in Goa which have not been put to public use as yet, but were only constructed for 'commission' and
corruption.
Velingkar targeted the Congress, BJP and MGP, claiming that they have no principles and were into dirty politics.
Related news