Will armymen factor come to play in LS poll?
16th April 2019, 03:56 Hrs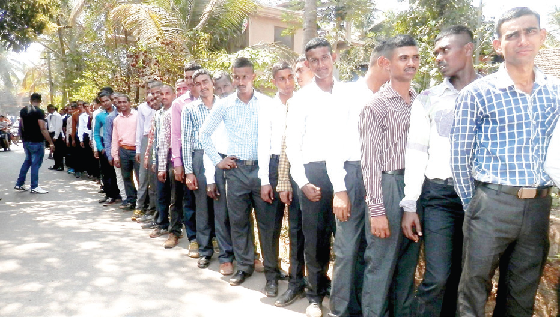 the goan I network
MARGAO
How many armymen from the 3 Military Training Regiment camp at Rawanfond will come out for a surgical strike as the State goes to poll on April 23? Or, will the military men cast their vote via the Electronically Transmitted Postal Ballot System (ETPBS), a facility which has been made available for service voters?
These questions have come to the fore not only in the light of the Pulwama terror attack, but against the backdrop of hundreds of military men, including recruits undergoing training at the Rawanfond military camp, exercising their franchise at the Ghantamorod polling booth, raising eyebrows amongst local voters as well as the contesting candidates for the Navelim Assembly seat over the choice of these military voters.
While a military training officer told The Goan that the voters registered on the voters list will cast their votes via the e-ballot or the ETPBS system and only the civilian staff inside the camp will cast their vote at the local polling booth, election officials say the ETPBS facility is available only for military men who are registered as service voters, especially armed forces personnel serving in the border and remote areas of the country.
"To exercise their franchise via e-ballot or the ETPBS, the military men have to register themselves as service voters. If they are registered as general voters in a state like Goa, they may not be able to avail this facility," informed South Goa Additional Collector, Johnson Fernandes.
A military officer, however, told The Goan that the military men standing in queues at the local polling booth may be a thing of the past if they opt for the e-ballot system of voting. The officer further said that those recruits, who had cast their vote two years ago in the 2017 Assembly election followed by the panchayat election in the same year, may have been transferred or deputed at other centres or areas after completing training.
He, however, hastened to add that the hundreds of army job seekers, who had made a beeline to the 3MTR camp a couple of months ago, to join the military service, are yet to be registered as voters for the simple reason that they have still not been employed till date. "These successful job seekers amongst the lot, who had undergone various tests, will join the camp only in July," the officer said
In the 2017 Assembly election, around 600-odd voters from the military camp had enrolled themselves in the electoral rolls of Navelim Assembly constituency. When these voters had come out on the polling day on February 4, 2017, their presence only gave some anxious moments for the political players in the fray for the Navelim seat.
Related news