Netted in history
Many Siridao fishermen still continue to hand weave their nets just like their ancestors did.
Story: Ahva |

D'Souza

|
28th July 2012, 12:00 Hrs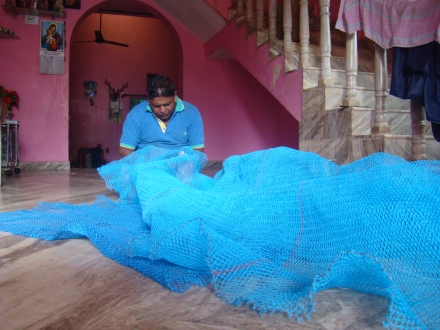 On the way to Margao, after the Agassaim police station, if one takes the road to the right, one would reach the village of Siridao. The village famous for its toddy and fishing community is also known for its hand-woven fishing nets. But with the availability of machine-made nets, the fishermen are struggling keep alive the practice and tradition of hand-woven nets. Once upon a time, these hand-woven fishing nets were in high demand among the fishermen and anglers.
Manuel Pinheiro from Dandiwaddo is famous in the village for his hand-woven nets. In his residence on the banks of the Zuari, he is bent over weaving a net. At 68, his experienced hands skillfully twirl and weave the deep blue thread. He has been weaving nets for the last 50 years. Without looking up, he says, "Age is catching up. My legs and hands ache. I have to take regular breaks even while weaving the smaller nets." To weave the bigger nets of 24 meters, Manuel hires labourers to help him. A 24-meter net takes him 20 days to make with help from two workers. He pays each worker Rs 300 per day. A finished net sells for anything between Rs 25,000 to Rs 30,000. "Besides the rising cost of labour, prices of raw material are also rising," he points out.
Machine-made nets are competition to net weavers like Pinheiro. Though they are cheaper, Pinheiro refuses to buy the machine-manufactured nets. He said, "They may be cheaper, but are not sturdy. I prefer to make my own nets."
Reminiscing of his early days as a net-maker Pinheiro said, "We used to eagerly wait for the monsoons as we were able to make some money." The dwindling stock of fish in ponds, rivers and canals has adversely affected net-makers over the years. With the business in the doldrums, the younger generation is now switching professions.
With nets available for purchase online and at stores, the dwindling number of weavers in Siridao continue to weave their own fishing nets the same way their ancestors did.

Related news
Germania batteries: Fully charged on the growth path
Goan battery company exports to Russian and Turkey Technology breakthroughs ensure lower prices Read more
Threading an Indian story
Nestling on the main street of Assagao is a rich treasure trove of exquisite hand-made jewellery, clothes, traditional weaves all under one roof. The Indian Story store is a place where collectors hang out to pick up not just clothes but a piece of India Read more