New Panaji mayor Madkaikar assures to make city clean
15th March 2019, 02:41 Hrs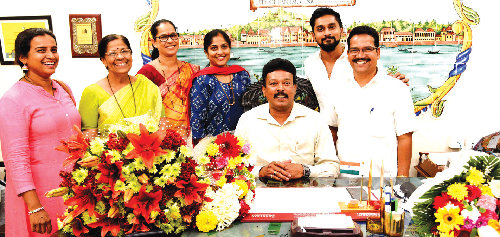 the goan I network
PANAJI
Noting the fact that the Panaji city has gone down in cleanliness index to 71 position in the State, the newly appointed Mayor Uday Madkaikar said that his priority will be to make Panaji city clean.
"I will soon call for a meeting of all corporators on garbage issue," Mayor said.
Uday Madkaikar on Thursday took charge of the mayor position.
He said there are many plans in his mind but as such model code of conduct is in place nothing can be executed.
He added that he will try to make municipality staff permanent, who is working on contract basis for last 15 years. "All pre-monsoon works will be done on top priority. The drains will be cleaned to avoid water logging," he added.
Madkaikar thanked Babush Monseratte for anointing him as Mayor of
Panaji.
Madkaikar was elected unopposed as mayor of the CCP as the BJP panel did
not file any candidate against
him.
Related news