If Modi comes to power, BJP will resolve mining: Shripad
Ayush minister launches poll campaign from Priol
15th March 2019, 04:38 Hrs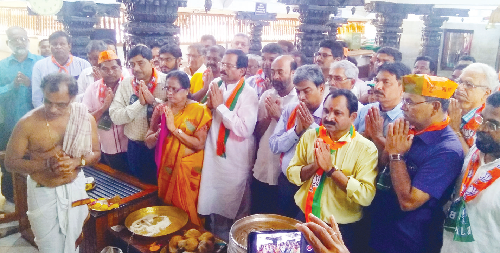 the goan I network
PONDA
AYUSH minister and senior BJP leader Shripad Naik on Thursday assured that the BJP would resolve the mining issue on priority no sooner the Modi government returns to power at the Centre.
The union minister was addressing a gathering after beginning his campaign by seeking the blessings of Goddess Shree Mahalsa Narayani Prasann at Mardol, ahead of the Lok Sabha elections.
Rajya Sabha MP Vinay Tendulkar, former speaker Vishwas Satarkar, senior BJP leader Damodar Naik and others were present on the occasion. Naik's wife Vijaya, was also present on the occasion, who offered coconut and 'kaapad' to Goddess Mahalsa.
"In Goa, development has been a continuous process and we only had the problem of mining suspension. We are working to resolve it and even if we find an option to resolve it now, we can't do anything due to the code of conduct in force. But once our government comes in power, we will resolve it on priority," Naik said.
Naik, who is expected to be BJP's North Goa candidate for the Lok Sabha polls, claimed that all sarpanchas and panch members from Priol constituency were with him, which is why he launched his campaign from Priol constituency.
Naik said he has every
right to seek votes as his government had done lot of
development.
"The work done by Modi government is far better than 55 years of Congress rule. People know what we have done. Hence, we have all right to go back to voters to ask for their votes. We will tell people that they should vote us for further development," he said.
He promised to visit all North Goa constituencies and hold public meetings over the next 20 days.
"Prime Minister Narendra Modi and BJP's central leaders will campaign in Goa," said Naik.
Commenting on the assembly bypolls in the State, Naik said they are trying to ensure that their alliance partner do not contest the elections. "We are engaged in talks with them and we are hopeful that they will not contest the bypolls," said the Union minister, adding that the alliance partners would definitely campaign for him in the LS polls.
Related news