Pollution, stagnation of Mapusa river dominates Bastora meet
21st January 2019, 03:50 Hrs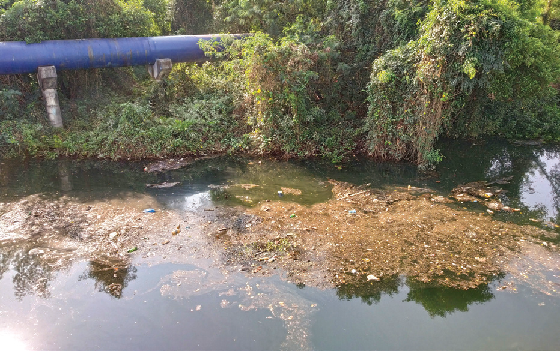 the goan I network
MAPUSA
The stagnation and pollution of water in Mapusa River came up for discussion at the Bastora gram sabha on Sunday with villagers calling for urgent steps to revitalize the river.
Several locals expressed concern over the arrest in the flow of water of the river which has led to stagnation and foul smell emitting from the river.
A local informed that the ongoing road widening work and construction of a culvert along the national highway has blocked the flow of river water.
Sarpanch, Savio Martins informed the gram sabha that there were two aspects to the problem affecting the river: The normal flow of water has been blocked due to ongoing construction of a culvert on the national highway and all raw waste that the nullah brings from the Mapusa market flows into the river causing pollution.
The sarpanch said that he has written the member secretary of the GSPCB to examine the river.
He also said that he was in touch with the PWD (NH) officials over the blockage of the river and necessary instructions have been passed on to the concerned officials.
The gram sabha passed a resolution to impose house tax on around 200 illegal houses so that the panchayat could mop up additional revenue.
After a detailed discussion it was resolved that the panchayat conduct a survey of the illegal houses and a separate register be maintained for those houses.
It was also resolved that after obtaining approval from the director of the panchayat new revised tax be imposed on such illegal structures.
The sarpanch appealed with the local communidade to issue the panchayat NOC to use a small area of land to create a dry waste centre and cattle pound.
The gram sabha also passed the panchayat budget for the financial year 2019- 2020.
Related news