NSUI demands rescheduling of GU-ART from Jan 27 to June
Story: the |

goan

|
12th January 2019, 01:43 Hrs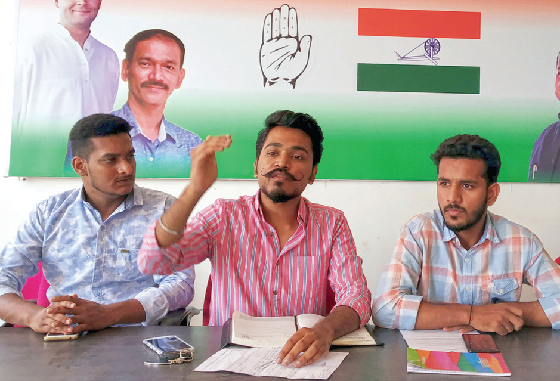 MAPUSA
Stating that the Vice-chancellor's sudden decision to advance the Goa University Admission Ranking Test (GU-ART) in January this year would burden the student community, the National Students' Union of India (NSUI) on Friday demanded that the test be held in June as was the practice all these years.
"For the last so many years, the GU-ART was being conducted after the end of the academic year in June. For reasons best known to authorities, this year it has been suddenly been pre-poned to January 13," said Naushad Chaudhari, President of NSUI, North Goa.
He said when the students protested about the sudden change of timing, the authorities postponed it only by two weeks and has now been scheduled for January 27.
The President of NSUI, the student wing of Congress, was addressing a news conference along with the secretary and other members in North District Congress office, Mapusa.
According to Chaudhari, the students were facing serious difficulties as they have to prepare for their internal test as well as submit projects in January.
He said due to the short notice on rescheduling of the GU-ART, the students will have very little time to prepare for the admission ranking test.
"For the first time, the GU-ART is being conducted before graduation results are out. When it was being held in June, the students had enough time to prepare for the test," he said.
NSUI Secretary Prasanjeet Dhage said the Goa University Vice-chancellor Varun Sahani was avoiding the students. "It looks like the VC does not want to resolve the problems of students. He is trying to stay away," Dhage alleged.
He said that on January 1 the NSUI had written to the VC seeking his appointment but till today he was refusing to give a date.
The NSUI secretary said it appeared that GU was not prepared to listen to the grievances of the students and resolve them. Besides the VC, NSUI has also written to Chief Minister Manohar Parrikar who is the education minister, secretary of the chancellor and the secretary of education on the GU-ART issue.
Related news