Chinchinim locals want closure of power laundry; p'yat to take a call
Members conduct inspection of premises; owner says has necessary permissions from authorities
11th January 2019, 03:17 Hrs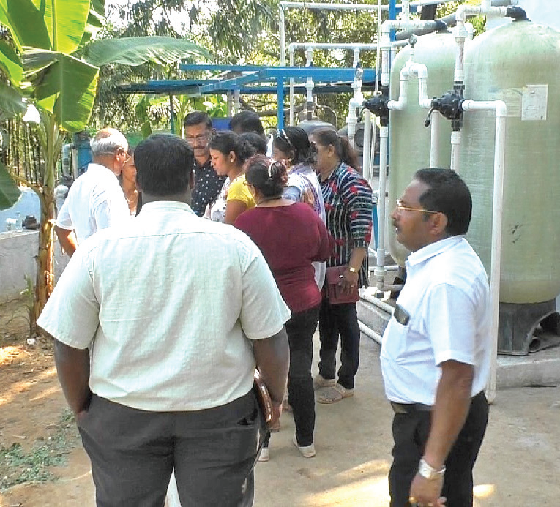 the goan I network
MARGAO
The ball lies in the court of the Chinchinim village panchayat to decide the fate of a power laundry with local residents led by panch member Flory Pereira demanding the immediate shutting down of the unit.
On the other hand, the laundry owner Anthony Pereira told the media that he has been running the laundry for over a decade now with necessary permissions from the authorities, including the Goa State Pollution Control Board (GSPCB).
The village panchayat has conducted an inspection of the power laundry following a representation made by the local residents demanding its closure for a host of reasons.
Panch member Flory Pereira told the media after the inspection that the power laundry running 24x7 has turned out a nuisance for the local residents. She said the locality is hit by foul odour, besides smoke and dust making the lives of the residents miserable. Flory had demanded the revocation of the licence issued to the laundry.
A local resident Jevita Vaz has cried foul over the refusal to allow the residents of Codewaddo and Pavlem to enter the laundry premises during the inspection while demanding the shutting down of operations.
Another resident Jima Rebello told the media that local residents have been adversely affected by the smoke, dust and noise pollution caused by the power laundry. "Why should we and our children suffer just because of the laundry," she asked, while making a fervent plea to the panchayat body to close down the establishment.
Santan Afonso of Cuncolim People's Forum demanded to know whether the laundry has the permission from the Factories and Boilers, demanding to know how a power laundry running 24x7 can be allowed to operate in a residential locality.
Laundry owner Anthony Pereira claimed that he has the requisite permissions from all the authorities, including GSPCB. Anthony later told the media that he is ready to install any measures if asked by the panchayat body. Saying that water discharged by the laundry is treated by an effluent treatment plant, Anthony has promised to undertake additional measures if asked by the panchayat.
Related news