Army job seekers make Margao rly station their temporary home
17th December 2018, 03:23 Hrs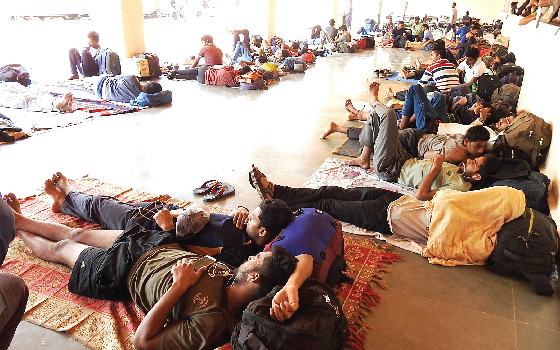 the goan I network
MARGAO
After facing flak over sanitation and other issues around the Rawanfond military camp, a number of army job seekers have taken shelter at the Margao railway platform, even as local Aquem-Baixo Sarpanch in coordination with military officials conducted a cleanliness drive around the camp on Sunday.
The Goan understands that the job seekers took shelter at the railway station as many of them have to undergo the last running test scheduled on Monday. Their presence outside the Rawanfond military camp had drawn flak from the local residents of Aquem-Baixo.
Local MLA Luizinho Faleiro demanded that the military and other authorities respect the human dignity as the jobs seekers used the neighbourhood to answer nature's call.
In the meantime, Aquem-Baixo Sarpanch Siddesh Bhagat organized a cleanliness programme around the military camp and clear the waste that was left behind by the job seekers. The team also sprayed a chemical to contain the bad odour and stink left behind by the open defecation by the youngsters.
The Sarpanch told The Goan that the cleanliness drive was carried out in coordination with the military officials. He said the military men have been very supportive, adding that another round of cleanliness drive will be undertaken after the end of the recruitment process.
"The panchayat would have made the necessary sanitation arrangements if the military had to inform the body days ahead of the programme," he said, adding that the panchayat was informed about the army recruitment process only a day before thousands of job seekers descended on the village to undergo the mandatory tests with the hope of gaining entry into the Army.
Faleiro along with the local residents had come down heavily on the stink left behind by the army job seekers in the residential area around the military camp. In fact, Faleiro was clear in saying that while the people have the highest regard for the armed forces, he had expressed his strong reservations over the absence of sanitation facilities for the young men when PM Narendra Modi talks big on Swachh Bharat Mission.
Related news