Hindu organisations seek ban on 'Kedarnath' screening
07th December 2018, 05:44 Hrs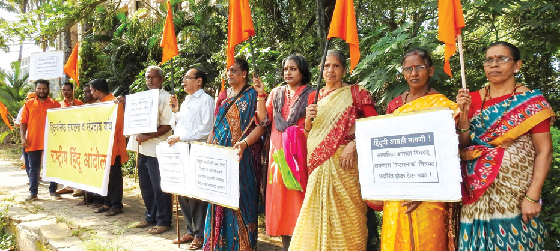 the goan I network
MARGAO
Members of some Hindu organisations on Thursday held a protest demonstration outside the South Goa district Collectorate against the release of the film Kedarnath, with the activist demanding that the Goa government ban the screening of the film in the State.
Shouting slogans Bharat Mata Ki Jai, the activists displayed saffron flags and carried placards opposing the release of the film, which is due for release across the country on Friday.
Satyavijai Naik, district president, Hindu Janjagruti Samiti later told the media that the Hindi film shot at Kedarnath, the Holy place for the Hindus, has hurt the sentiments of the Hindu community. He claimed that the film is promoting Love Jihad in the film, which is not acceptable to the people of the country.
"The film has hurt the sentiments of the Hindu community," he added.
Saying that the Goa government in the past had banned films on the plea that it may hurt the sentiments of a particular community, he demanded that the government should take a decision and ban the film from being screened in the cinema halls across Goa.
Meanwhile, Dr Manoj Solanki, National Hindu Movement has said that the HJS had earlier submitted a memorandum to the Central board of film certification to demand imposition of a ban on the film before the outpour of public sentiments. Also local devotees and priests of the Kedarnath temple have opposed the movie and have objected the script and few scenes in the film. The priests at the Kedarnath temple have also demanded a ban on the film, he added.
Related news