Here come M'rashtra trucks with tons of fish; K'taka vehicles coming too
FDA terms fulfilled, 9 insulated vehicles roll into wholesale fish market
07th December 2018, 05:16 Hrs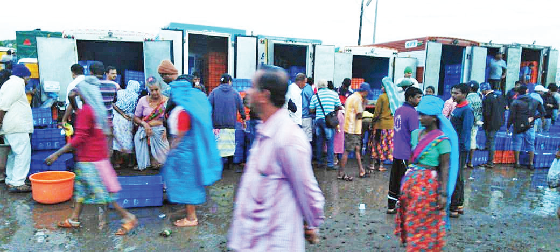 the goan I network
MARGAO
Goa's lone wholesale fish market played host to around nine insulated fish trucks which rolled into the state from neighbouring Maharashtra with a variety of fish, including the prized Kingfish, lepeos (sole fish), etc on Thursday.
Even as the state administration is preoccupied with laying down the modalities to permit small fish traders from across the borders of Goa to import fish into the state, nine trucks, all insulated vehicles arrived in the wholesale fish market in the wee hours of Thursday.
President of the Wholesale Fish Market Association, Maulana Ibrahim informed that the wholesale traders have resumed importing fish from Maharashtra in insulated vehicles and they possess Food Safety and Security Authority of India (FSSAI) certification. He said the fish traders have complied with the guidelines laid in the Public Health Department's circular, including conditions such as importing fish in insulated vehicles and after obtaining permission from the South Goa Planning and Development Authority.
"Fish that has been imported into the wholesale fish market in the last few days was transported in insulated vehicles. This is one of the conditions laid down in the August 2 circular and we have complied with the guidelines," he said.
Moreover, he pointed out that the SGPDA has already given members of the Wholesale Fish Market Association and other associations to conduct fish trading in the wholesale fish market. "Since the two major conditions in the Public Health department's circular has been complied with, I see no reason why full-fledged fish import operations should not resume immediately," he said.
While the fish importing trucks have rolled into the wholesale fish market from across the Maharashtra border, Ibrahim said fish from the southern state of Karnataka will follow suit once the traders arrange insulated vehicles to transport the fish into the neighbouring states.
Incidentally, the consignment of Kingfish that was brought into the market on Thursday were disposed off at moderate rates. If Ibrahim is to be believed, a kilogram of Kingfish was sold in the region of Rs 400.
There was, however, a slump in the demand for fish on Thursday given that it was a day when most of the Hindus abstain from consuming fish.
Meanwhile in Panaji, Health Minister Vishwajit Rane informed that nine trucks of fish were allowed to enter the state of Goa on Thursday through Karnataka, in compliance with guidelines laid down by the Food and Drugs Administration (FDA).
"The report has been sent to me," said Rane. The trucks also had the Food and Drugs Administration transportation license with their truck numbers.
Also, 10 trucks from Goa exporting fish left the state via Karwar on Thursday, and they were not obstructed. The issue of the trucks exporting fish being stopped has been resolved, Rane told the media.
Related news