Fish import issue: Mapusa vendors threaten to shut down market
Vishwajit's resignation demanded for failure to resolve matter
09th November 2018, 03:12 Hrs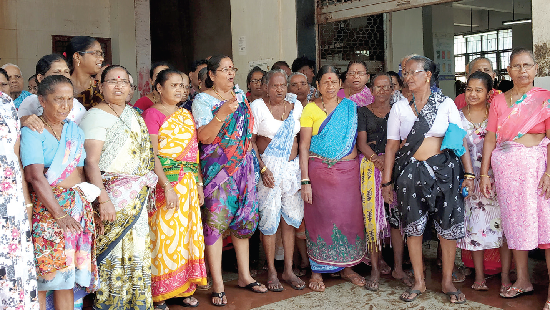 the goan I network
MAPUSA
Demanding the resignation of the health minister, President of Mapusa Fish Vendors Association Shashikala Govekar on Thursday threatened to shut down the Mapusa market if government fails to find a solution to the imported fish imbroglio within 15 days.
"With no outstation fish entering the State, our business has been hit hard. If the government cannot find an amicable solution to the issue of imported fish then Health Minister Vishwajit Rane should resign from his job," Govekar said.
"We are giving the government 15 days to find a solution on the issue, if not, we will shut down to entire Mapusa market," she added.
The Mapusa Fish Vendors Association chief was addressing the media after holding a protest against the government's rigid stand on imported of fish.
Normally, at least seven to eight outstation trucks with fish from Maharashtra make its way to Mapusa market on a daily basis.
But with government putting its foot down and demanding fish traders to comply with FDA guidelines, no trucks have entered the market for almost a fortnight.
Stating that fish vending business has registered a big drop, Govekar said people hesitated from buying fish on fears of fish being laced with formalin.
"People refuse to buy even normal fish on account of fears of formalin. We hardly manage to do business. How are we and our families going to survive," she pleaded.
Sympathizing with the ailing chief minister, Govekar said Parrikar would have definitely dealt with the issue effectively.
"If Chief Minister Manohar Parrikar was well, he would have found a solution to the problem within days and to the satisfaction of everyone," Govekar said.
Former PWD Minister Churchill Alemao also came under attack from the agitated fish vendors in Mapusa.
"Churchill Alemao got the first opportunity to stay in the new central jail in Colvale. Now, he wants us to sit in the jail," Govekar lashed out.
Alemao had recently demanded arrest and investigation into the affairs of wholesale fish dealer,
Ibrahim Maulana.

BOILING POINT
Mapusa Fish Vendors Association Shashikala Govekar on Thursday threatened to shut down the Mapusa market if government fails to find a solution to the imported fish imbroglio within 15 days
The government recently put its foot down and demanded the fish traders to comply with FDA guidelines
The association claimed that not a single truck has entered the market for almost a fortnight
On average they would have 7 to 8 outstation vehicles coming to the market daily
Related news