Only foreign e-wallet companies benefitted from noteban: Cong
09th November 2018, 03:10 Hrs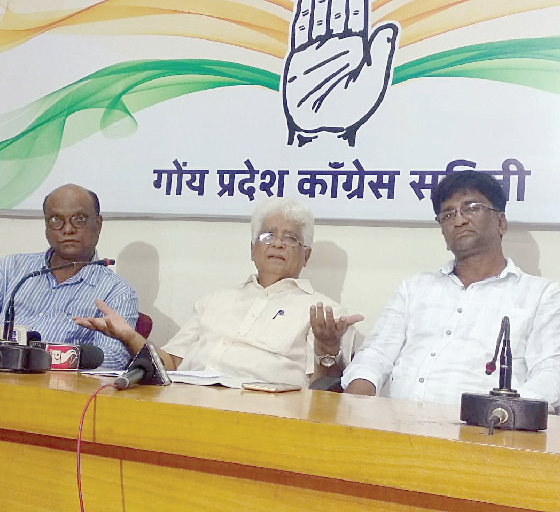 the goan I network
PANAJI
Claiming that demonetisation has not served its aim, Congress spokesperson and former union minister Ramakant Khalap alleged demonetisation followed by promotion of digital economy has primarily benefited foreign companies operating digital transactions in India.
"Foreign companies benefited due to digital economy. Although India has IT talent, the Indian government failed to promote indigenous e-trade facilities," said Khalap in a press conference on Thursday.
He further alleged that after two years of the demonetisation this move has not served the purpose of curbing parallel economy, black money, tax evasion, counterfeiting and corruption.
It may be recalled that on November 8, 2016, Indian Prime Minister Narendra Modi recalled Rs 500 and Rs 1,000 currency notes as legal tenders.
Taking a critical stock of the government's decision, Khalap said with this step Reserve Bank of India's autonomy was destroyed and GDP growth rate went down from 9 per cent to 7.5 per cent.
The demonetised Rs 500 and Rs 1,000 notes accounted for 86 per cent of the total currency in circulation at the time, he added.
Informing that out of Rs 16 lakh crore worth of currency that was demonetised, only Rs 10,000 crore worth currency didn't come back to RBI. The Central Bank spent around Rs 22,000 crore in printing the new notes to replace the old ones causing a loss of Rs 12,000 crore to the exchequer.
The Congress leader claimed, poor people who relied on cash transactions suffered and many daily wage labourers lost employment. Besides there were a few who died while waiting in queues to submit their Rs 500 and Rs 1,000 notes in the banks.
TAKING STOCK
Congress spokesperson and former union minister Ramakant Khalap alleged demonetisation followed by promotion of digital economy has primarily benefited foreign companies operating digital transactions
He further alleged that after two years of the demonetisation this move has not served the purpose of curbing parallel economy, black money, tax evasion, counterfeiting and corruption
It may be recalled that on November 8, 2016, Indian Prime Minister Narendra Modi recalled Rs 500 and Rs 1,000 currency notes as legal tenders
Taking a critical stock of the government's decision, Khalap said with this step Reserve Bank of India's autonomy was destroyed and GDP growth rate went down from 9 per cent to 7.5 per cent
Related news