Ace Diagnostic Centre- For precision and pace
Shant Gudanwar had a very humble beginning. From being an ambulance driver to owning a pathology lab, he has seen many ups and down. His clinic provides 24-hour services even reaching the doorsteps of those patients who find it difficult to travel. He derives motivation from serving the society and looks forward to helping the needy through his work
22nd October 2018, 03:47 Hrs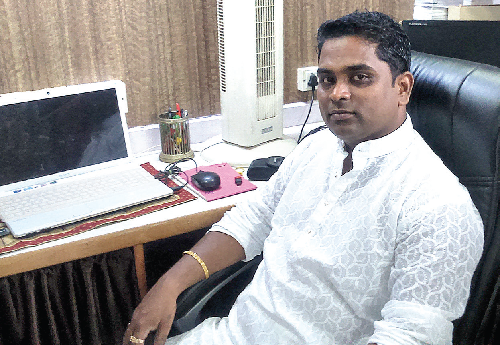 BHARATI PAWASKAR
Call him at any time with a request for a x-ray and he willingly obliges. With his portable x-ray machine he would be there at your doorstep with a smile on his face, ever willing to help the needy in anyway possible. An all-rounder in his field of work, he doesn't mind performing the task of drawing blood samples, testing them, driving an ambulance, taking x-rays and sonography even though, as a owner, he is not required to do so.
Having completed a Diploma in Medical Laboratory Technology (DMLT), he wants to keep practicing and upgrading his knowledge from time to time. "I like doing these things as it acts as a 'feel good' factor. And let me tell you, I enjoy my work thoroughly. It gives me immense satisfaction to help those who, due to their illness, are dependent on others," states Shant Gudanwar, owner of Ace Diagnostic Centre in Mapusa.
A trained professional with hands on experience, Shant, along with his wife Neha, run their diagnostic centre in the heart of Mapusa along with two collection points, one in Dhuler and another at Kuchelim - offering 24-hour service across Goa.
It's been little over ten years that Ace Diagnostic Centre kick-started on August 18, 2008. Though Shant made a humble beginning, within two years he was able to upgrade his pathology laboratory with state-of-the-art equipment.
"We do all routine blood tests and have a lot of regular patients who rely upon us for a quick and accurate service. I am blessed with good staff and we maintain timely delivery. I don't believe in giving 'cuts' to doctors for referring patients, as it's not an ethical practice," shares Shant.
Shant expresses gratitude for being blessed with a good staff, supportive doctors, faithful patients and a better-half that handles more than half of his responsibilities.
"I feel I am lucky, though I must admit that I have had a very tough childhood. My late father always insisted that we must start earning at an early age to understand the value of money. After his passing at an early age I worked part-time to support my education," observes Shant.
While working as an ambulance driver Shant's interest in radiology and pathology developed. Though he was not a science student, he wished he could do something in this field. So he enrolled for DMLT course and completed it while working two different jobs. Later, doctors like Rajesh Bhatkurse and Prasad Netravalkar supported him financially to start his own path lab. "It's because of them that I am what I am today," says a humble Shant.
Ace is a one-stop solution for pathology services. It offers tests in clinical chemistry, clinical microbiology, hamatolgy, surgical pathology, cytogenetics, molecular diagnostics and more. Blood samples are collected at the doorstep of patients and the delivery of reports is done via email. Ace comes handy for those persons who need regular blood tests but cannot reach to the pathology labs due to various reasons.
Believing that prevention is always better than cure, Shant and his diagnostic centre reaches out to the society in various ways. They organise medical camps for public in association with various social organisations. Recently, one such camp was organised with the help of Mapusa Club of Rotary Elite and Ansabhat Sarvajanik Ganesh Mandal where 450 persons availed the free check-ups.
"During such health camps we offer blood groupings, haemoglobin and fasting sugar tests as well as ECG on the spot and free to the participants," informs Shant, a self-made person who believes in giving
back to society.
Related news