Vasco locals allege structural damage due to ongoing GSL construction work
12th October 2018, 04:15 Hrs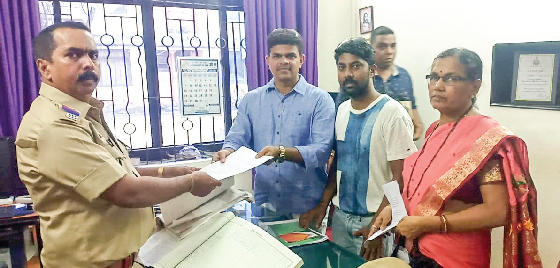 the goan I network
VASCO
A group of residents in and around Voddant have filed a complaint with police, accusing Goa Shipyard limited (GSL) of undertaking construction works which has threatened their structures.
The aggrieved locals along with Ward Councillor Nandadeep Raut met Vasco Police Inspector Nolasco Raposo on Thursday morning seeking action against GSL, after claiming that works were in progress till late night and their buildings began vibrating every time GSL undertook the work.
Residents also claimed that their buildings had developed cracks as a result of the constant vibration from piling work at the site.
The locals later handed a complaint to Vasco Police, demanding action against the work.
The residents also shot and shared on social media a video where a glass filled with water vibrated on the terrace while the piling work at the GSL work site was underway.
Raut claimed that GSL had engaged in piling work without approvals from MMC and said the residents had approached Vasco police to seek action.
"The residents and I had filed a complaint and the MMC chief officer conducted a hearing in the matter. He had issued stop order and also instructed GSL to repair all damages that were reported by surrounding buildings due to works taken up by GSL," said Raut.
"There are around 50 complaints. Old houses, buildings and small houses are affected. We are not against GSL, but we want them to give in writing that all surrounding buildings are safe and they would be responsible if any building collapses. The MMC has permitted to recommence work but not piling and GSL is carrying out piling works," said Raut.
A resident, Joseph Fernandes said GSL had engaged in sheet piling and the surrounding buildings vibrated every time work began, so much so that people had to rush out of their buildings.
"Cement chunks have begun falling from our roofs. Authorities are not doing anything despite complaints. We have approached the police and MMC several times. The work at night
also disturbs our sleep," said Fernandes.

Related news