Mormugao council chief accuses fellow councillors of extortion
12th October 2018, 04:15 Hrs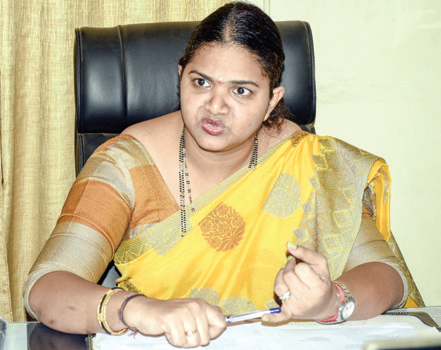 the goan I network
VASCO
After being hit by a no-confidence motion, Mormugao Municipal Council (MMC) Chairperson Bhavna Nanoskar on Friday fought back and accused some fellow councillors of the ruling panel of illegalities and extortion.
Thanking senior Councillor Pascoal D'Souza for voting her into power, Nanoskar alleged that a few ruling councillors were trying to dominate her and extort money from traders.
"A councillor even pressurised me to clear a file that would be put up for the council meeting without taking any legal opinion and even frantically called me several times to clear the file," said an angry Nanoskar, while addressing a news conference in the city.
"Many files of a builder, which had been cleared by the council and lying in the technical section, were brought back to my cabin without my knowledge. Several builders from Vasco were being pressurised to pay money by some councillors of the ruling panel, on grounds that the chairperson had kept their files on hold. When the contractors came to MMC to ask me about their files, I replied in the negative as I was unaware of anything," she said.
"I only realised when the contractors began approaching my husband who is a PWD contractor as they were his friends. I objected to this and that is why today I am out and they are blaming my husband for interfering in the council," said Nanoskar.
Hitting out at the councillors for accusing her of illegalities, the MMC chairperson challenged them to prove their allegation. "Two councillors are involved in illegalities in the market and are using my name. I was never aware of this until a no-confidence motion was moved and people informed me. They have levelled baseless allegations against me and this no-confidence motion is only because I exposed their intentions and did not allow them to continue with the illegalities," said Nanoskar.
"All MLAs and people are with me because they know me and if I wanted to continue as chairperson, I would have never objected to their illegalities. I had begun a drive to clear encroachments and maybe, that they did not want that. I cannot be used as a rubber stamp," Nanoskar added.

Related news