Consultation process for modern fish market in Margao begins
Story: the |

goan

|
11th October 2018, 03:27 Hrs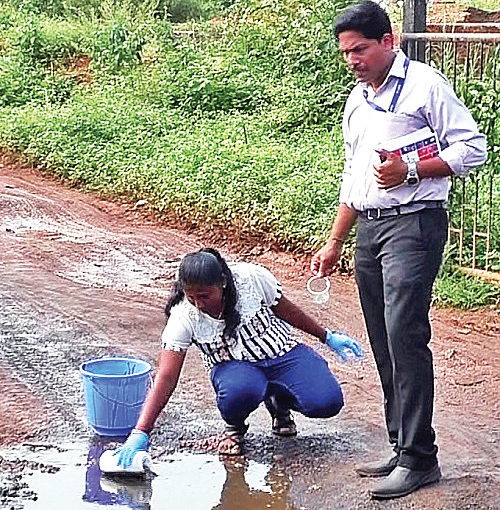 MARGAO
Town and Country Planning Minister Vijai Sardesai along with GSIDC Vice-chairman Sidharth Kuncolienkar and other officials set in motion the consultation process ahead of the construction of a modern wholesale fish market, even as officials of the Goa State Pollution Control Board descended on the
stinking wholesale fish market to collect samples of stagnant water.
The consultant roped in by the GSIDC to design the multi-crore wholesale fish market gave a power point presentation to the TCP Minster, GSIDC Vice-chairman and other
officials.
Sources said the TCP Minister is believed to have later invited Benaulim MLA Churchill Alemao for the power-point presentation given that the MLA had spoken at length in the Legislative Assembly on how to go about building the wholesale fish market.
Sources said the TCP Minister also invited a leader of the traditional fishermen community from Benaulim as part of the consultation process. It is learnt that the TCP Minister has decided to call the stakeholders after his return from Delhi before finalising the plan.
Sources said the plan has made provision for separate blocks for the wholesale fish agents and the local traditional fishermen, with an FDA unit at the entrance to the market. The plan also envisages on an effluent treatment plant close to the rivulet and also a recycling unit for the thermocol waste. It also speaks of a mechanism wherein vehicles importing fish from outside will be allowed entry into the market with a pass issued at the border. "The plan is at the stage of consultation. The consultant today had a power point presentation. The whole exercise will be to make changes to suit the requirements of the stakeholders", he said, adding that the process will continue.
In the meantime, GSPCB officials descended on the wholesale fish market to collect samples of the pool of stagnant water inside the market. The wholesale fish market has several stagnant water pools for want of any facility to treat the waste water.
Related news