Finally, Aquem Power House traffic junction to get facelift @ Rs 1.65 cr, Kamat lays foundation
Story: the |

goan

|
11th October 2018, 03:26 Hrs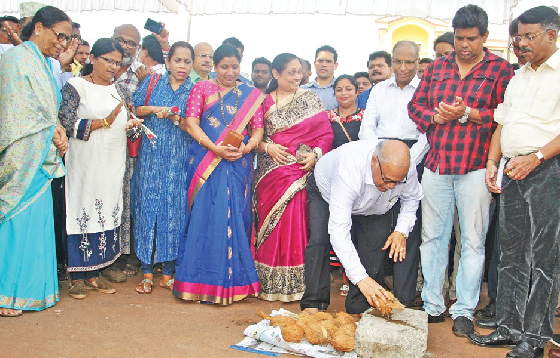 MARGAO
At long last, the messy Aquem Power House traffic junction will be developed at a cost of Rs 1.65 crore, with Chief Minister Digambar Kamat laying the foundation stone for the ambitious project on Wednesday.
And, the good news is that the entire area will get a major facelift as the government has floated a Rs 3.5 crore tender to beautify, illuminate and build a jogging track and a pedestrian pathway along the Apollo Victor Hospital-Power House ring road, which has been converted into a mini-garbage dump.
The government is also toying with the idea of building a flyover connecting the eastern bypass to the Rawanfond bridge, expected to ease traffic flow from north to south.
After laying the foundation stone for the Aquem Power House junction, Margao MLA Digambar Kamat said that apart from channelising the traffic flow, the junction will go a long way to rid the area from unauthorised and haphazard parking of trucks and garbage disposal.
"Once completed, the traffic junction will become free of haphazard parking of outstation trucks, garbage disposal, etc. It has taken the authorities, including the PWD, Traffic, Town Planner James Mathew and electricity officials four years to plan and design the junction," he said, while exuding confidence that the junction will ease traffic problems in the area.
He profusely thanked all the PWD engineers, including Principal Chief Engineer Parsekar, electricity officials, traffic officials, besides the town planners for working out the design of the traffic junction to regulate the traffic flow.
Saying that he had a meeting with PWD Minister Sudin Dhavalikar recently, Kamat said the PWD Minister has suggested a flyover, connecting the eastern bypass to Rawanfond bridge. "Let the PWD officials prepare a design of the proposed flyover and we can carry out modifications in the plan after discussions," Kamat said.
The Margao MLA pointed out that the entire area will get a big facelift once work on the beautification of the Apollo Victor-Power House ring road is taken up after a month. "This ring road was converted into a garbage dump yard by unscrupulous people. Once work on the Rs 3.5 crore beautification work is completed, the ring road will get a facelift," he said, while sounding a warning that the authorities will come down heavily on people dumping waste along the road.
Former councillor, Damu Shirodkar, said people of Aquem need not come to Fatorda stadium as the jogging track facility will become a reality right along the Apollo Victor-Power House ring road, while thanking the local MLA for resolving the long standing demand of the people for traffic junction and ring road.
Related news