Candolim bears brunt of rising sea water
Story: the |

goan

|
11th October 2018, 03:25 Hrs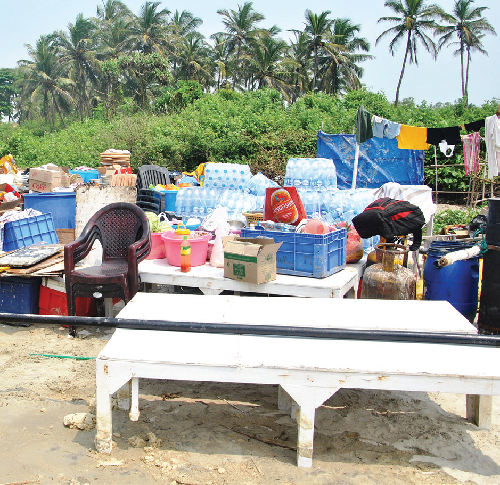 MAPUSA
Sudden rise in sea water caused panic among shack owners along the Candolim-Calangute-Baga beach belt in North Goa.
Although there were no reports of damage, sea water made its way inside shacks on Wednesday mid-morning.
Some panic-stricken owners began to dismantle their shacks fearing rise in water level later in the night while others shifted their property to higher ground.
Seawater climbed several metres up the shore along the Candolim coast compared to Calangute and Baga.
Shack Owners Welfare Society (SOWS) General Secretary John Lobo informed that seawater climbed several metres inside the beach, much more than the super moon incident last year.
He said although there was no much damage, some people have dismantled shacks fearing more such incidents later in the night.
"We are a little worried as it could turn worse during the night as another high tide is scheduled at around 10.30 pm," Lobo said.
Several owners had erected shacks early in the season this year after the tourism department provided provisional licences to them.
The SOWS general secretary responded in the negative on whether it was too early to allow shacks to come along the beach and blamed the "unusual" weather condition for the sudden rise in water level.
"The sudden rise in water level is something unusual. I don't think just because of this incident shacks should not be allowed to be erected early," Lobo said.
Related news