UNUSUAL TIDE CATCHES STATE'S COAST UNAWARES
Brings back memories of devastation caused by after effects of cyclone Ockhi; Candolim and Majorda among beaches most hit
Story: the |

goan

|
11th October 2018, 04:24 Hrs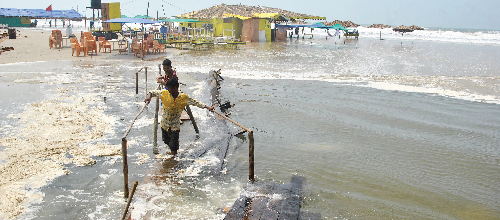 MARGAO
Memories of devastation of beach shacks in the last season came back to haunt shack owners as rising sea water and huge waves flattened a shack at Betalbatim and played spoilsport for those erecting their seasonal structures along the Salcete beach belt.
The Betalbatim-Majorda-Utorda beach belt bore the brunt of nature's fury as the entire stretch was inundated with sea water on Wednesday. At Betalbatim, a shack under construction collapsed in the morning, moments after the beach was inundated with sea water.
At Betalbatim labourers were seen salvaging a damaged structure of the beach shack that was flattened by the sea water. While the remaining shacks on the Betalbatim beach belt withstood the nature's fury, the shack owners, however, shifted their goods and beach items to a safer place along the sand dunes as a matter of abundant precaution.
Some of the beach shacks were under water till 1 pm on Wednesday before the waters receded, bringing much relief to the operators.
Beach umbrellas erected by the shack owners also came under
water.
President of Goa Shack Owners Society Cruz Cardozo said though not much damage was caused to the shacks after the rising water inundated the beach belt on Wednesday morning, the shack erection activity was disrupted.
"Most of the shack owners are still in the stage of erecting their shacks. Hence, not much damage might have been done. But, we are taking all precautions as the government has warned of rising sea water," Cruz told The Goan.
Salcete Mamlatdar John Fernandes told The Goan that he has instructed all the village talathis along the beach belt to maintain vigil and report any incident of damage caused to shacks and others structures to his office.
"We have till date not received any report from the talathis on any destruction caused by the rising sea water. The talathis have been told to maintain vigil," John said.
Colva police station in-charge PI Filomeno Costa said that he has posted policemen on the Colva beach to maintain vigil and as a precautionary measure.
Related news