The man who won the Million Dollar Award
A self-made man Vijay Bhike speaks on his initial struggles and how he overcame them before he could achieve the highest honours in the private insurance sector company Max Bupa and travel to 36 countries
08th October 2018, 03:26 Hrs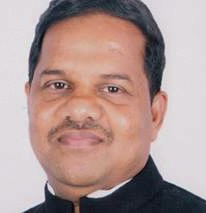 BHARATI PAWASKAR
He's the first person to receive the Million Dollar Award in Goa by the Max Bupa Health Insurance Company Limited, an Indian assurance firm and a joint venture between Max India Limited and Bupa Finance plc UK, established for the purpose of carrying health insurance business in India. "It's my 13th year at Max Life and Max Bupa," admits Vijay Bhike, who got elected last year from Mapusa as a district president of Goa Pradesh Congress (North Goa). Having 1500 clients so far, he has settled numerous maturity claims too. "One must invest in insurance, especially health and life, as these are the most important things in one's life," he feels.
In Max Bupa, Vijay won the CEO Council award five times, he became MDRT four times, he won the Chief Executive Award 11 times and countless other small and big awards. He has recruited 40 persons in Max Bupa and has travelled to 36 countries, all thanks to his company that supports him immensely. But the journey to this rosy picture of life was not an easy or cosy one, for Vijay. Life threw at him numerous crude challenges but he came out a winner, each time. It was his never-say-no spirit that raised him to today's status.
A self-made man who completed his education following 'earning and learning', Vijay always stood up for a cause and became a voice of the voiceless throughout his academic career.
"I came from a lower middle class family and had no financial support from my parents to continue my education, but thankfully my zest and zeal allowed me to work part-time in a pharmacy to support my education. Neither was I ashamed of my poverty, nor my friends or teachers looked down upon me. They always stood beside me and that's the reason I could hone my skills as a leader," admits Vijay who wanted to be financially independent just as he completed his studies.
"My friends helped me to raise the necessary capital and luck too, was favourable. Friends helped me to invest in a place, owned by Prabhakar Patkar who trusted me so much that he handed over the keys to the place on receiving only a part-payment of the total amount. You can pay the balance amount in yearly instalments, Patkar said. So my pharmacy business started. I strived hard to make it flourish, keeping it open for 24 hours and going out of my way to help the needy customers."
It paid off well. Vijay could prosper in a couple of years and repay all the balance amount in time to Patkar. But at this juncture he thought of changing the track of his life and do something that no one could have imagined.
"I decided to join insurance sector. Sitting in the pharmacies all the time and taking care of my own business left me little time to be with my friends or indulge in social life and politics. I wanted to be socially active again, which is why I had to leave the counter of my pharmacy. I joined Max India and Max Bupa, an insurance company that had just opened its office in Goa. Those days the private financial sector was shaky. At that point of time, Max Bupa entered Goa. My friends were doubtful of my entry into this sector. But again luck favoured me. I had a network of people and their trust and they invested in insurance on my request and bought policies," recalls Vijay.
Today he is successful in life. Insurance sector uplifted him and in a short time he grabbed many achievements.
Vijay who joined Max Bupa in 2006 as an agent advisor was promoted in 2008 as agency associate and has a team of 40 people working under him. He achieved all the parameters and is the first person in Goa to get MDRT (Million Dollar Round Table) award.
Related news