Stray dogs greet first set of Russian tourists!
05th October 2018, 02:40 Hrs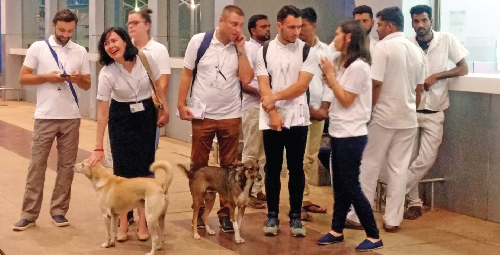 the goan I network
VASCO
Tourism officials and a brass band were not the only ones to welcome and greet hundreds of Russian passengers arriving by the first chartered flight of the tourism season at Dabolim airport in the wee hours of Thursday.
In a major embarrassment to the State, the arriving tourists were also greeted by a number of stray dogs, which mingled with the tourists and even appeared to pose for snaps, as photographers and Russian tourists began clicking photos with the stray dogs at the arrival gate of the airport.
While the presence of the stray dogs intimidated a few tourists, some others, however, began playing with stray dogs while a few uploaded their first pictures of their Goa holiday along with stray dogs on social media, sending a negative image of the entire administration.
Stray dogs also mingled with a group of Russian representatives at Dabolim airport.
Photos of stray dogs at the airport were also circulated and made viral on social media later in the day.
Several dogs also were on a sniffing spree as they began sniffing for eatables that the Russian tourists may have brought with them. As numbers of stray dogs began to increase, some passengers began shooing them away and some even sought local assistance to drive them away.
It may be recalled that the stray dog menace has been one of the biggest issues plaguing Dabolim airport and several meetings at various levels have not resolved the issue. Incidentally, the issue was also discussed in the recent airport advisory meeting. There have also been talks with agencies like PFA and Mission Rabies to tackle the dog menace at the airport.
Related news