East Lower Army: vociferous cheering squad goes extra mile to support FC Goa
26th September 2018, 07:09 Hrs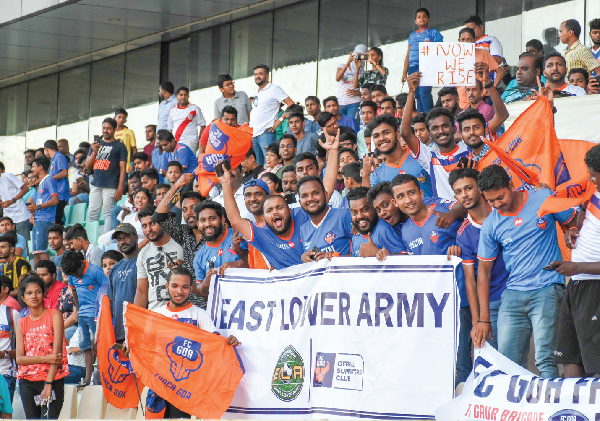 BASIL SYLVESTER PINTO
PANAJI
It may be the smallest of the three official fan clubs of FC Goa in numbers, but this does not take away the endless energy and vivacity they generate en masse in the East Lower Stand at Fatorda. East Lower Army (ELA) on a consensus last season gave themselves the name for their reverberating and enthusiastic presence in the aforementioned area at their Fatorda fortress for the FC Goa matches.
Sahil Naik, a representative of East Lower Army (ELA) reveals they came up with their Fan Club name for the state franchise of ISL by accident. "We are a bunch of people who used to sit together in the East Lower Stand and our chants let the people go crazy. Others then started coming near us. We made good friends and on that point with everyone's mutual decision we formed ELA," he recounted.
Incidentally, ELA was a process that originated from the start of the first season. "Initially, we used to go as individuals or some friends from the same area used to attend the matches together. In the second season, we got more people through matches, became good friends, the third season it was more of the same. Last season, we got more people, uttering chants, mostly very local with everyone gathered in the East Lower Stand. And we became an instant hit. Then we decided to form a group called East Lower Army as we sat in the East Lower Stand only," the 22-year-old FC Goa die-hard elaborated.
Naik, from Usgao, states that new people get attracted towards them because of the energy they bring. "We are die-hard fans. For me, FC Goa is not just a club but a family. I have never attended any match without a poster. I've made posters for every game. Till now I have made 20 posters, none printed, all hand-made," he proudly said.
To date, with their nomenclature, they have over 75 members in our group starting from last season. On match days that number crosses the 100 mark. Last season onwards, ELA members began to attend away matches in Pune and Bengaluru, and the trend is set to continue and grow in the fifth season soon to be upon us.
ELA have shown their strength in enthusiasm and voice by their presence in the home friendlies against East Bengal and Indian Arrows held at Bambolim Athletic Stadium on September 22 and 25 respectively. They introduced their new chant on the new Gaur beast in central defense, Mourtada Fall in the friendly against the Kolkata giants in Bambolim on Saturday which caught on with the other partisan home fans. Tweaked a bit to make it smooth, pleasant and catch to the ear at high decibels, the chant went like this, "Who guard us like a Wall?? Mour taa daa Fall." They have till date on record created 21 chants, for many of their players with a Konkani feel. It would not be long that other new foreigner and domestic recruits have a dedicated chant to egg them on.
Have you heard the Bahubali Mohammad Ali chant? Naik asks. They have simple chants for their players which can hook the Gaur in you on like Corominas La lal la la.. Corominas La lal la lal la.., Bahubahli...Mohammad Ali..., Yahoo Yahoo...! Ahmed Jouho...!, Vamos Vamos...Hugo Boumous..., Shaandaar Jaaandar..Amcho Mandaar.., Who is the superman..Kattimani Goyycho superman.. Kattimani, Khelta hai badhiya..Eduuu bediaaa.., Who the hell is John Cena We love only Chinglesena, among others. What beats to an up tempo frenzy to the Dhan dhana dhan tune is the chant, "Aami Goenkaar sadaat mukhaar vasat raavtale, Haro kivva jiko aami sadach astale, Ae dhan dhana dhan... Goal," which as the 12th man pumps up their side on the field.
Related news