In search of 'middlemen'
Goans celebrating Chaturthi this year will ask Lord Ganesha to look into the issue of the steadily dwindling number of Goan priests to perform the traditional poojas in their homes
13th September 2018, 07:12 Hrs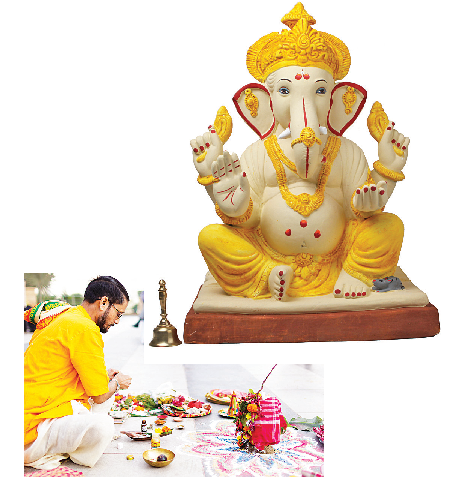 Jay Joshi
As Ganesh Chaturthi, the most beloved festival of Goa begins, Goans are busy sorting perhaps the most pressing problem they face every year during this festival: finding a priest to perform the pooja. It appears that over the years, the number of Goan priests is steadily dwindling, prompting people from neighbouring states to fill the vacuum.
"There are lots of priests from Karwar now a days in Goa," informs Anuradha Naik from Sakhli. "We face a lot of problems at my native place in Canacona. The priest is very busy, and sometimes the pooja does not start till 3 pm." she informs. "Earlier, during my childhood, two priests used to cover the entire waddo, but not the population has increased, and new generation kids do not take up the traditional occupation of priests."
Whereas Naik has a fixed priest to attend to the pooja, Ankita Chavan from Vasco struggles to find one. "We rarely get a local Goan priest. Most of the times, he says he is too overburdened and sends someone from Karnataka," states Chavan. "Goan priest gives first preference to his local 'waddo', and people like us who live in relatively new colonies have to make do with priests from other states. Additionally, the non-Goan priests also charge higher amounts," Chavan's words ring true when priests put forth their end of the situation.
"There is indeed a shortage of priest, and this puts a lot of pressure on us," informs Hemant Adhyapak, a full-time priest from Priol. "When we started in this business, there were six of us. My cousins and friends used to share my workload after taking care of their own business and regular jobs. But now, everyone has moved and there are only two of us, and we have to handle 70 poojas. This is in our own village, plus there are requests from outside. We have no choice but to straightaway deny these offers." During Chaturthi, Adhyapk starts working at 6:45 in the morning, and is busy till 4 pm. "How much more do you expect me to stretch myself?" questions the helpless priest.
VInayak Totekar, a priest based out of Mardol agrees with Adhyapak. "Last year I was forced to give up an entire 'waddo' of 50 houses where I used to attend to poojas." informs Totekar. He has a crew of six priests who take up poojas in various areas of Goa " Most of the priests are from Karnataka. The conditions have been worsening since last five years. When you arrange priests from outside, sometimes they do not show up on time, then I face pressure because I gave my word to the people." Totekar currently attends to three 'waddos' in his village and has no ambition of expanding his footprint.
While full-time priests struggle to keep up, part-time entrants in the business too find no lenient treatment from the customers. Durgesh Alavni from Ramnathi is an engineer employed with a firm in Verna, but moonlights as a priest during Chaturthi. "I have to perform at least 20 poojas a day, and it's hectic!" says the 24-year-old part-time-priest. "And many a times, people refuse to pay the meagre amount of Rs 500 (inclusive of purva pooja and uttar pooja) citing that I am an engineer who earns well. But they will shell Rs 5000 for a Ganesh idol which will be kept for 1 ½ day. This is unfair."
Related news