Real reverence for Ganesha will be plastic-free festival: MMC
Story: the |

goan

|
13th September 2018, 01:48 Hrs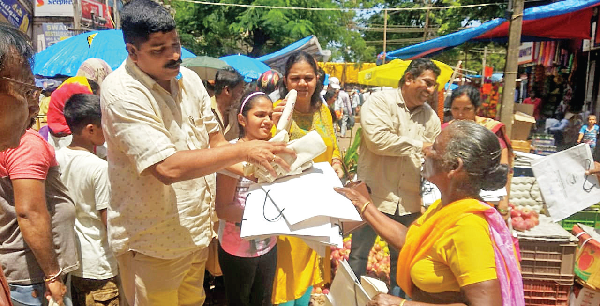 VASCO
In a bid to promote a plastic-free Ganesh Chaturthi, Mormugao Municipal Council (MMC) distributed around 5,000 cloth and paper bags to vendors and public at Vasco Market on Wednesday morning.
The bags were distributed free of cost ahead of the Ganesh Chaturthi festival.
MMC Chairperson Bhavna Nanoskar along with Councillors Kritesh Gaonkar, Saifullah Khan and Dhanpal Swamy distributed the bags in the busy market where a large crowd had gathered to buy vegetables and fruits for their Matoli.
Speaking to reporters, MMC Chairperson Nanoskar said the council was dedicated and wanted to ensure that Ganesh festival would be plastic-free on the same lines of the recent Damodar Bhajani Saptah Fair.
"We are trying all ways to ensure that Vasco goes plastic-free. I can say we are close to almost 80 per cent of our target. We expect that people will cooperate in the MMC initiative to make Vasco plastic-free," said Nanoskar
Added councillor Kritesh Gaonkar, "We are very happy to distribute this lare quantity of paper and cloth bags to vendors and people so that they have an alternative to plastic bags."
"I think we will surely be successful if people cooperate with MMC. I think all municipal councils across Goa should adopt such procedure so that plastic menace in Goa can be reduced by a big extent," said Gaonkar.
MMC Chief Officer Agnelo Fernandes thanked Kotak Mahindra Bank for handing over 2,000 cloths bags to the MMC as part of its CSR activities.
"I wish to inculcate this habit of discarding use of plastic bags and to carry cloth bags. I want every person to carry a cloth bag while shopping. I want everyone to assist me as it is everyone's responsibility to stop using plastic."
"I appeal to all the women and self-help groups to join hands to make this initiative a reality. They can collect old sarees and we can ask the 260 SHGs registered with us to come forward to prepare cloth bags which can be supplied to people. I also want help of all shopkeepers not to keep plastic bags and in turn start reusing paper bags to pack material," said Fernandes.
Related news