A closer look at Patanjali's Swadeshi Samriddhi Card
The partners of the first mega store of Patanjali opened in Goa recently, Raghav Shetty and Surendra Shetty speak to The Goan on the growing popularity of the Patanjali brand in the State market and the benefits of having a Swadeshi Samriddhi card offered by Patanjali
10th September 2018, 06:18 Hrs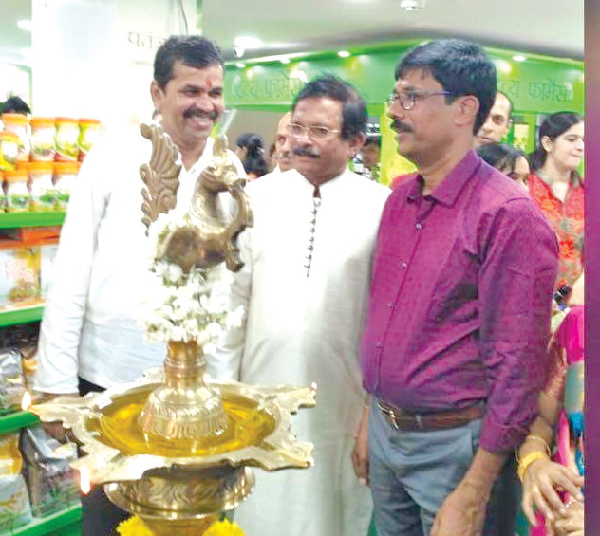 BHARATI PAWASKAR
A meeting with Swami Baba Ramdev in 2006 transformed him completely and being inspired by Swamiji's Swadeshi campaign he donated Rs 5 lakh, the only saving he had then - for the greater cause - of which he too became a part in the following years. Meet Raghav Shetty, who, along with partner Surendra Shetty, has opened Patanjali Mega Store in St Inez recently and ever since has no time to breath.
Patanjali Ayurveda Ltd (PAL) claims to be the fastest growing company in the Indian FMCG sector with a well-diversified product portfolio – from medicines to cosmetics, grocery to snacks, health drinks to snacks, ghee to honey, apparel to footwear – all under a single roof. It has grown more than 10 times in revenue in the last five years which itself is an unparalleled feat in India's FMCG industry.
"We have been receiving a tremendous response from the customers in and around Panaji from day one and there is no time to take a break now," states Raghav, an ardent follower of Baba Ramdev since 2006.
Briefing on how the concept of the Mega Store in Goa took shape, Raghav shares, "Fully soaked in Swami Ramdev's preaching and yoga, I gave myself to his philosophy and ideology. Joining Patanjali team, I opened Sagar Chikitsalaya at Mapusa where Patanjali trained Ayurvedic Vaidyas would consult and treat the patients free of cost. It's been running since 2013. I also started an adjacent outlet selling Patanjali products which were very few then. As the product range began to expand, the demand grew. The quality, variety and the reasonable price attracted more footfalls and our customer range grew sizably. That's how I penetrated into this business which offered no great incentives, except the utter satisfaction that I experienced within myself."
When in September 2017 Swamiji declared that it's time Goa should have a Mega Store, Raghav tried to convince businessmen in Goa to step ahead, but they were reluctant because of huge overhead costs and non-feasibility. That was the time he decided to shoulder the responsibility himself. But it was not an easy task. The capital investment was huge and returns low but steady. "Not thinking of making any profits, I plunged into it even though I did not have enough funds in my pocket. Thankfully my partner Surendra Shetty who was already settled in cashew and dry fruit business, agreed to invest half. Both of us took this decision together but it took us almost a year to translate our concept into a store. We arranged the required funds - some from our own pockets and the rest through bank loans. Things just fell into place somehow, when we finally invested Rs 1. 5 crore to start this Mega Store.
After hunting for a suitable location, the Shettys finally zeroed down on the ground plus one premises in St Inez. The owner of the premises was kind enough to let go a large part of the rent, and deal at a lesser amount when he heard that the duo wish to start Patanjali business. The place was done up, with furniture and cabinets arriving from Haridwar. Finally, the store opened at the hands of Union Ayush Minister Shripad Naik and from day one, there has been a constant flow of customers. "We are now offering 'Swadeshi Samriddhi' cards to our customers who can purchase their products against these cards and avail discounts," mentions Surendra.
These Swadeshi Samriddhi cards can be recharged at Patanjali Mega Stores/Chikitsalaya/Arogya Kendra or online through payment gateways. There will be no fee for recharging at Patanjali stores. However for online top up, payment gateway charges will be borne by the customer. The scheme is only for members purchasing products at Patanjali Mega Stores, Patanjali Arogya Kendra and Patanjali Chikitsalaya.
"The footfalls are increasing with each passing day and we are open from 9 am to 9 pm. Today's consumers want value for money and quality product at reasonable price, they get here. While it is beneficial for the customers to get quality goods at cheap rate, for the distribution system the margin is 16 per cent. But luckily we don't have to spend huge amounts on advertisements as our brand ambassador is Swamiji (Baba Ramdev) himself," smiles Raghav.
Endorsing Raghav's statement, Surendra adds, "Patanjali is a trusted brand and it has earned credibility in the FMCG market over the years. I am new to this sector but as Raghav is associated with the company for a long time, I decided to join him. And the beauty of this business is, the profits go to charity. Swamiji wants to develop a Satvik society where people have patriotism in their hearts and as good citizens, we must assist him in reaching this goal."
Related news