SEZ Land Repossession: Hopes for new opportunities
Now that it seems the SEZ saga is reaching a closure and therefore 38 lakhs square meters of land will be back to the state government, the business community think that it's a great opportunity to promote industries if that land is developed by providing right infrastructure
27th August 2018, 12:17 Hrs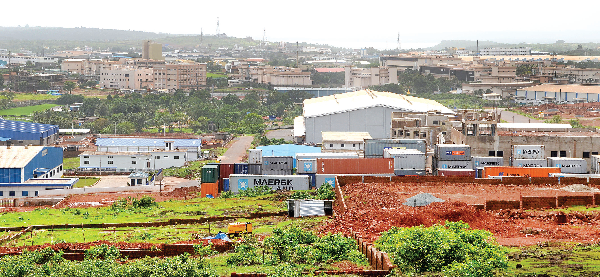 Karan Sehgal
One of the main reasons Goa finds it difficult to attract industries is shortage of land. To compound the state's woes, 38 lakhs square meters of land have been stuck in special-economic-zone (SEZ) related litigation for many years now.
Just few weeks back, the State Cabinet approved the proposal of Goa Industrial Development Corporation (GIDC) to pay Rs 256 crores to the SEZ-promoter companies and take repossession of 38 lakhs square meters of industrial land from them. The industrialists are pleased with this development because it means that 38 lakhs square meters of land will soon be back to the state government, which can be used to promote industry.
Sandip Bhandare, president, Goa Chamber of Commerce and Industry (GCCI), said, "The government should utilise this land with an objective of maximising employment and maximising Goa's attraction to the industrial sector. We must realise that we may not be able to acquire more land for industries in future after this."
A number of Goans leave their state every year in search of employment. Therefore, it is very important that the government utilises the land it will get after the closure of SEZ case to promote industries, which will provide employment to large number of people in the state. N Sriram, veteran industrialist and director of Tulip Group of Companies, said, "I am sure that lot of industries would like to come to Goa. The government should provide adequate infrastructure like power and water. I'd say that attract an industry, which is not a drain on local natural resources. For example, if you want an industry with huge requirements of water, then locals may have a problem."
It is true that the government will have to consider the interests of locals while inviting industries. Sources also said that part of the land stuck in SEZ case is reasonably close to residential areas of the state, which is unlike most industrial estates located on plateaus away from habitation. Darshan Vani, president, Mapusa Industrial Estate Association, said, "Part of the SEZ land is in close proximity to the villages. If a large industry were to come up on such a land, there may be opposition from the locals. Rather than that, the government may consider creating an information-technology (IT) hub on a small scale on such land."
Then, the question arises about which kind of industry should the state be focusing at? Sriram said, "I think the government should attract bio-technology companies because Goa is an ideal state for such an industry. Such industries are non-polluting and hi-tech. Moreover, the government can even consider attracting IT companies."
In fact, both IT and bio-technology are thrust areas for green-field investment as per 'Goa Investment Policy'. Other thrust areas as per the policy are: knowledge based industry, R&D centres, financial services, tourism, integrated educational hubs, light engineering, aviation and agro-based & food processing industry. So far the state's economic model is heavily dependent on mining and tourism. Sources in the business community expressed hope that the government should attract industries from thrust areas of Goa Investment Policy by using SEZ land.
Atrey Sawant, past chairman of CII's Goa State Council, said, "The government can utilise the land, which it is going to get back from SEZ promoters, to give preference to industries in priority sectors like knowledge, IT and electronics."
Bhandare said, "The government should do few things with the land it is expected to get back from SEZ case. First, make small parcels of land, which should be given to industrialists, who are waiting to get land for a long time. Second, earmark bigger plots, which will help in attracting big industries. Third, keep small plots for micro and small industries. Fourth, work towards building a land-bank for industries from long-term viewpoint."
Even as the government will be looking to attract bigger industries using SEZ land, it will also have to promote the cause of micro, small and medium enterprises (MSMEs). Most industries in Goa fall in the bracket of MSMEs and by the virtue of being smaller, these entities also need more support from the government.
Parag Joshi, managing partner, Jutex and Laminex, said, "The government should consider the affordability factor while developing SEZ land for industries. The government will have to pay significant amount of money to the promoters of SEZ to get the land back. Moreover, it will have to spend on developing infrastructure like roads, power and water connections for the land, which, as of now, is barren. After doing all this, the government will have to price the land at a rate, which is affordable to MSMEs."
A number of industrialists said that the price of land at Verna Industrial Estate is acceptable to them. It remains to be seen how the government will go about pricing the land it will get from SEZ case. Joshi hit the nail on its head that affordability will be a key factor.
The fact that the state government is going to get the possession of 38 lakhs square meters of land will definitely give a boost to the industrial sector. Being small in size, Goa finds it difficult to compete with larger states like Maharashtra and Karnataka when it comes to offering big pieces of land to large industries.
To an extent, this problem will be taken care of now. However, the government will have to ensure that it creates a land-bank, which can be used for many years in future to attract right kind of companies.
Related news