Lasting Bonds!
05th August 2018, 06:49 Hrs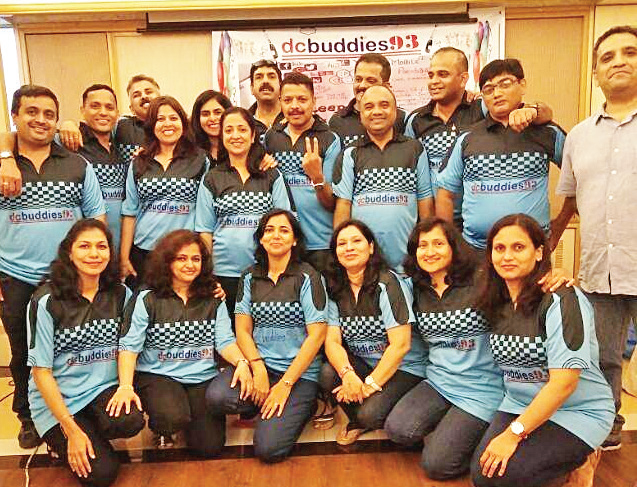 BHARATI PAWASKAR
What is friendship? Has there been any specific definition? As we all know and experience that it is a strong bond developed over time between two or more persons which cannot be expressed in words. It's beyond any specific description. Distance doesn't matter in this interpersonal relationship though close proximity may deepen the affection. Friendships can have many facets but no tags. Sushant Naik and Vidya Dhaimodkar are experiencing this bond of friendship for a couple of decades now. A happily married couple today, Sushant and Vidya were friends since their childhood and with time their bond of friendship matured into a lifetime relationship.
"Both of us were a single child and first cousins. Our families were in close contact and we almost grew up together. As kids we were good friends and liked each other's company recalls Vidya. Both shared their fears and phobias, joys and sorrows with each other but never exchanged words of love, until they graduated. It was a silent, unsaid, untold bond. They had deep feelings for each other but neither of the two never expressed or disclosed these emotions.
"It was when I was doing my MCom that Sushant proposed to me and I said 'yes', as it was only in him that I always saw my best friend and my life-partner. But it took us 11 years after we first exchanged words of love that we could actually get married, which was just last year, on May 17, 2017," says Vidya who admits that their friendship has deepened ever since their marriage.
Having similar likes and dislikes, the two get along well with each other. Both have inclination towards art and enjoy travelling to places. A teacher by profession, Vidya is a trained Kathak dancer too and a well-known commercial theatre artist in Goa, Sushant works as a theatre manager. He has acted in some Konkani films too. Their friendship has blossomed with time and they are the happiest twosome today. Theirs is an ideal example how a beautiful friendship can make life joyous and blissful.
Understanding between the Naik couple is so at par, it is as if they can read each other's mind. The foundation of their friendship being based on trust, respect and love, they value each other's opinions. Giving time and space to each other is much needed for an amicable relationship.
Friendships are forever believes Dr Nitish Kerkar who is a happy admin of 53 active participants of a school reunion WhatsApp group - 'Model 1979 SSC' created on August 4, 2014. "It's been exactly four years that our SSC batch mates from Bhatikar Model English High School, Margao got connected on WhatsApp," recalls Dr Nitish who took initiative to bring together not only his old school pals but also the purity and the innocence that they all experienced in their friendship in good old days.
"I first met one of my SSC classmates, Subodh Thakur, when I joined a cycling group four-five years ago. At his birthday I met another of our classmate Vidya Shanbhag. The three of us thought of connecting to others in our batch and within no time over 50 mates joined us. All who passed SSC in 1979 from our school came together and formed this group, of which not only me but each one is admin. Since 2014 we have enjoyed many reunions, dinners and birthday celebrations. Some of us are abroad but whenever they come to Goa we all make it a point to meet and spend the evening together. It's been a pleasure to host these reunions that transport us back to our school days and turn us into kids again," says Dr Nitish who takes time out from his busy schedule to enjoy some precious moments together with friends and get nostalgic.
Model 1979 SSC had a one-of-a-kind reunion where 20 of their school teachers, all of whom who have retired now, were invited at Ravindra Bhavan. Even the retired school peon, Suresh Kankonkar was invited. Coincidently, it was the birthday of one of the teachers, Kumud Keni (now Archana Dalavi) who was so overwhelmed by this surprise gesture of her students and her old colleagues who were all gathered to cheer her that tears of joy rolled down her eyes as she cut the birthday cake. "I would never ever forget that birthday," she exclaimed.
Dr Nitish maintains, "We have successfully rejuvenated our friendship and maintained cordial relationship with our teachers too. We visit our teachers to wish on their birthdays. They remind us of our childhood. Being together keeps us young. We are a bunch of oldies with young hearts. Our grown up children feel amazed at our time-tested friendships, which have grown even thicker with age. Whenever we meet, forgetting our age - we laugh, shout, yell and even quarrel. It makes us 15-year- old schoolmates. And we are so blessed to feel like teenagers." Next year this friendship will officially turn 40, but since most of them were together from class V, their actual friendship is 45-46 years. "The older the friendship is, the mature it gets and brewed too," feels Dr Nitish.
Ambey Parwatkar, international cricketer-turned-author settled in Dubai has an interesting tale about friendship. He shares, "DC Buddies (as we call ourselves) is a group of 28 members, bonded in 1988 in SS Dempo Higher Secondary, Panaji. Initially our group was of 13 members in 1988 but by 1990 we grew to 28. For the last 30 years we have known each other and shared every bit of our joys and sorrows."
Ambey recalls, "From November 2013, two of our members, Aarti and Leena, decided to get us all locked on WhatsApp. We have buddies all over the world in USA, England, UAE and India. Since the time this WhatsApp group has been formed our Interaction has improved. We have had three major reunions, one overnight reunion and many small reunions whenever some buddy who is seldom available is around."
The unique feature of the group is that it is not just the buddies that get reunited but also their spouses. Hence the count reaches to almost 90. Moreover the comfort level of organising any event, tour or reunion gets a boost due to the same. "It's a massive family where within the group we have surprise visits to parents, celebrating birthdays in clusters, etc. Yes, there are times when debate ensues due to some subjects floated on the group, many a times we have buddies who quit in rage but the admins make sure they are brought back. The DC Buddies consists of many warm-hearted people from Goa doing their best in various fields," shares Ambey.
Some friendships begin late but are lasting; they last till the last breath. Neena Naik, principal, Mustifund Open Schooling Tuition Classes, Panaji has witnessed one such a beautiful bond - between her late father-in-law Dr N V Naik and his late friend Manjunath Desai. "The two were friends but their friendship blossomed in the real sense after their retirement, when both were free and spent lots of time together. Soon, the duo made a group of similar- aged friends and planned their outing timetable - morning walks, shopping for fish and vegetables, visiting exhibitions, evening chats at teatime, watching plays or movies in theatre and helping each other when someone took ill. It was the presence of friends that helped these elderly to spend their days joyfully," maintains Neena.
Dr Naik's friendship to Desai was so deep that when Desai suddenly passed away, Neena saw her father-in-law crying for the first time. She shares, "I had lost my mother-in-law soon after I got married. He lost his companion but I had never seen him lose heart. He was a strong fatherly figure for me. But after his friend died, I saw him crying like a child. He just could not control his emotions. He was lonely and soon after he took ill and at 94, he passed away. It's the unwritten bond between two friends that makes them friends forever in true sense!"
Related news