On a lighter note with Pedru Juanv
Billy Fernandes' recent cartoon character Pedru Juanv, a reporter has been playing a significant role in portraying the recent dilemmas like flooding and Formalin in the State
22nd July 2018, 06:58 Hrs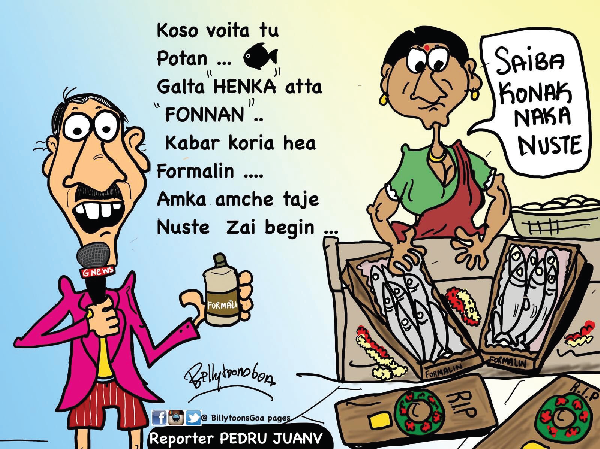 BASIL SYLVESTER PINTO
Though based in the Gulf, Billy Joe Fernandes has a close connect to his roots in the State through his thought-provoking cartoons and caricatures sensitizing the Goans on the issues that they face. The Dubai-based Goan has not only made waves through his doodling skills across social media through the nomenclature, Billytoons Goa, but Billy has also earned international recognition and appreciation too.
"The main highlight of my cartooning journey was when I was invited by Casa de Goa in Portugal (Goan community) on the interaction of the Indo-Portugal meet to present my art-work souvenirs to the Portugal PM in Lisbon in May 2017 in Lisbon," he proudly reveals. Using an iPad Pro, he brings to his toons a character. "Many a time they are real life characters. I keep observing people around," he said.
His most recent character creation, Pedru Juanv, a reporter plays a significant role in the societal spectrum of the State in tacking recent dilemmas like flooding and Formalin. But the character came to life inspired from his days prior to tooning. "I used to be very active in social activities of my village in Sirsaim (north Goa), especially in the side shows during tiatr. I played the character of a reporter and the crowd loved it which became a trend. Year after year, I performed the character during the Christmas cultural program. I introduced Pedro Juanv to continue the trend by spreading awareness as a news reporter," he narrated.
The world of cartoons and caricatures came naturally to Billy. "In school we all had a compulsory subject, drawing. I used to always have my art work based on nature and landscapes using colours. My notebooks and text books used to always have some drawing on them," he fondly reminiscised. His interest was only to fuel further, during college days with a friend gifting him a book by Mario Miranda. "That is when my scribblings turned into characters and later when I started working and got my first touch screen phone the Nokia 5800, my work turned digital," he divulged.
He took to Facebook to posting his work sometime in 2011 and began connecting with like-minded artistes. As years moved forth, he began to have his works showcased at exhibits. In 2015, he came across a fellow Goan artist, Fabian Gonsalves and teamed up with him to come up with an exhibition (Cartoonists and Illustrators of Goa) in September 2017 at Kala Academy, Panaji. In fact, he had an exhibition held earlier in Abu Dhabi (2016). "My next exhibition will be a group exhibition in Goa, early 2019," he announced.
At his exhibition in Goa last year, he showcased six frames based on Goan themes. Here, he met the renowned Goan cartoonist, Alexyz who gave him a few pointers. "Alexyz told me to keep working towards your goal, be natural and keep doing what you love (cartooning)," Billy stated.
While differentiating the art of a cartoon to a caricature, he had this to say. "I always give my toons a character, and whenever it is a caricature, I portray the subject in focus."
Talking on the important facets to be borne in mind, when coming up with a cartoon, Billy advised, "Try to put the art work in a simple form that everyone can understand the
message and not misunderstand. Never harm any religious sentiments."
"My biggest example and inspiration would be the comments from the Late Fr. Bismarque. I still remember his words from the days he was following my work and asked me to keep up the toon fight," he poignantly stated.
Billy has striven as an activist through cartoons by adeptly addressing sensitive topics like the Nigerian and police face-off in Goa, Coconut tree termed as the State Government as Grass, (which incidentally was featured on a national channel ) Fr Bismarque's case, the coal protest , Save Goa , demonetization, road safety week, to the more recent Formalin case.
"People think cartooning is an easy job and it does not take much effort. Cartooning is a very difficult task that one has to bring out the humor and at the same time give a message through the same cartoon. There is lot of thinking process that goes in," Billy disclosed.
Related news