What Cong has resorted to in House is orchestra: CM
Defends Speaker on not allowing adjournment motion on formalin issue; reiterates he will give a proper reply on the issue on Monday
Story: the |

goan

|
21st July 2018, 03:27 Hrs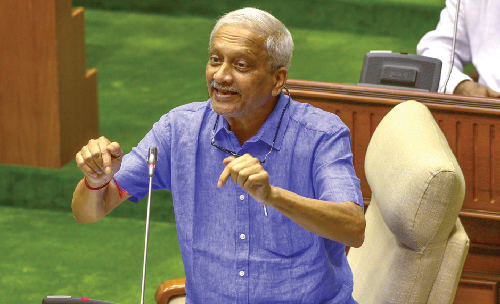 MAPUSA
Calling the Opposition's clamour for discussion on 'formalin in fish' issue in the House a "drama", Chief Minister Manohar Parrikar said
that Congress has failed to study the rules of the House properly.
"They (Congress) are demanding yesterday's adjournment motion to be taken up today. How is that possible? Yesterday's motion was already decided by the Speaker. It's over. If they wanted something today, they should have submitted a fresh motion," said Parrikar at an impromptu media conference in the corridors of the Assembly.
"Just because they moved it yesterday, it's not valid forever. Business is separate on every single day. Yesterday's request cannot be considered today. It was already decided," he added.
When The Goan questioned as to why the Opposition motion was not considered yesterday when the motion was actually moved, the CM said the Speaker had taken up the Calling Attention motion on the same issue.
"That you will have to ask the Speaker. The Speaker had allowed Calling Attention motion. It's up to the Speaker."
Pointing to a flaw in the adjournment motion drafted yesterday (Thursday), the CM said that the Opposition failed to ask for suspension of the Question Hour.
"Yesterday's adjournment motion was placed before the Speaker without asking for suspension of the Question Hour. It was wrongly drafted. Probably, rules are not properly studied," he said.
The CM said as far as fish was concerned government has already banned its import on Wednesday and the matter has to lay at that. "This is only natak (drama) what is going on. Today there was no motion introduced so this noise was only for purpose of cheap publicity," he said.
The CM further said that he will answer on the fish issue in detail on Monday.
"We have already taken action by banning import of fish. Once action is taken, there is no urgency of replying on the same day. I am replying properly on Monday," he said.
Related news