Condition of South Comunidade bldg pathetic, but rainwater seepage is making it precarious
Story: the |

goan

|
12th July 2018, 01:50 Hrs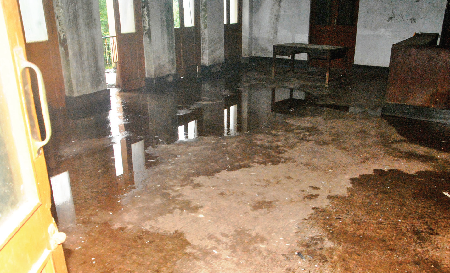 MARGAO
Shifting of the office and the records to the Old Collectorate building, South, might have saved the staff of the South Goa Administrator of Comunidades from the ordeal they had to undergo every year during the rainy season.
Revenue Minister Rohan Khaunte as well as the components of Comunidades in South Goa will have to soon answer a question how to go about saving the imposing building of the Administrator of Comunidades from rain water that keeps on seeping inside the structure.
A visit by The Goan to the Comunidade building revealed the grim reality. Water seepage is rampant as result of which there is water-logging. The main door to the office of the Comunidades was found locked, indicating that the office along with the records stands shifted to the Old Collectorate building. There is no one around to drain the rainwater that has accumulated on the top floor of the building. Fears have been raised that the water accumulation would further weaken the building, which had in the past come under the scanner of the Public Works Department.
Khaunte, who was scheduled to inspect the building during his visit to the District Collectorate to inaugurate the citizens service centre, said he has got the records and the Comunidades staff shifted to the Old Collectorate building.
When The Goan drew his attention to water accumulation in the building, the Revenue Minister said he would get the revenue officials in the district to inspect the building and take necessary action. "The building is also under my scanner. Only recently, I had issued instructions to cut down the trees growing on the building," he said.
He, however, said his office would wait for the PWD to submit its report on the structural stability of the building, which would help to take a call whether to go in for major repairs or reconstruct it. The minister hastened to add that all these questions will be answered after taking the components of the South Goa Comunidades into confidence, saying these are contentious issues and need to be deliberated and addressed by all.
Related news